Highway 12 Paving in Santa Rosa
Highway 12 Paving in Santa Rosa
In early July 2023, Caltrans began a paving project on a three-mile stretch of Highway 12 between Llano Road and Farmers Market Road in Santa Rosa.
This section of Highway 12 is composed of two types of pavement. From Llano Road to Fulton Avenue the highway is composed of asphalt, while the section between Fulton and Farmers Lane is composed of concrete slabs. As such, different construction and paving strategy will be used to revamp the pavement.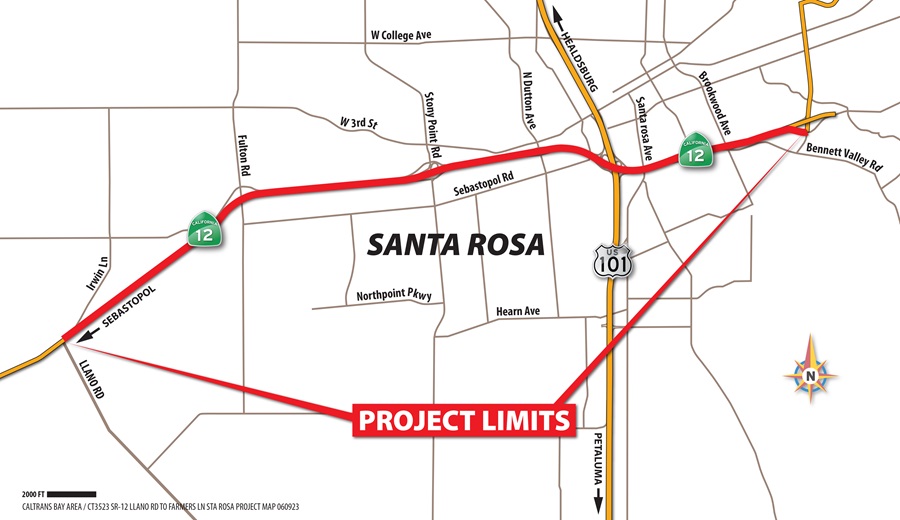 Weekend Closure
To save time and reduce the impact on motorists and neighbors of the project who would be subject to noisy night work, Caltrans will have weekend closure on both direction of Route 12, west of the 101 interchange, between Fulton Road and Dutton Avenue beginning 8:00 PM, Friday, September 22 until - 5:00 AM, Monday morning, September 25, 2023. There will be full closures of both directions of State Route 12 between 8 p.m. and 8 a.m. each night. Between the hours of 8 a.m. and 8 p.m., there will be one lane open in each direction. The weekend closure will allow Caltrans to expedite construction, taking tasks that would typically take weeks of night work and completing them over the long closure weekend.
Weather has always been a consideration for this project. Paving is best done when the weather is warm. If temperature dip into the 40s, there's a good chance the pavement won't bind properly, and the newly laid asphalt will need to be replaced. The same hold true for the concrete sections. Warm weather helps the concrete to harden properly, which is essential to getting the road open on time. Naturally, the best season in which to pave or pour concrete is summer, when warm weather is the norm.
That said, Caltrans is very aware that summer and fall is fire season, and the North Bay has been hard-struck by fires in recent years. Caltrans has the flexibility to open at least one lane to allow emergency vehicles to pass through the closed highway if necessary. Additionally, if a Red Flag wind or fire warning is issued, Caltrans will postpone the weekend closure to another time.
Closure Limits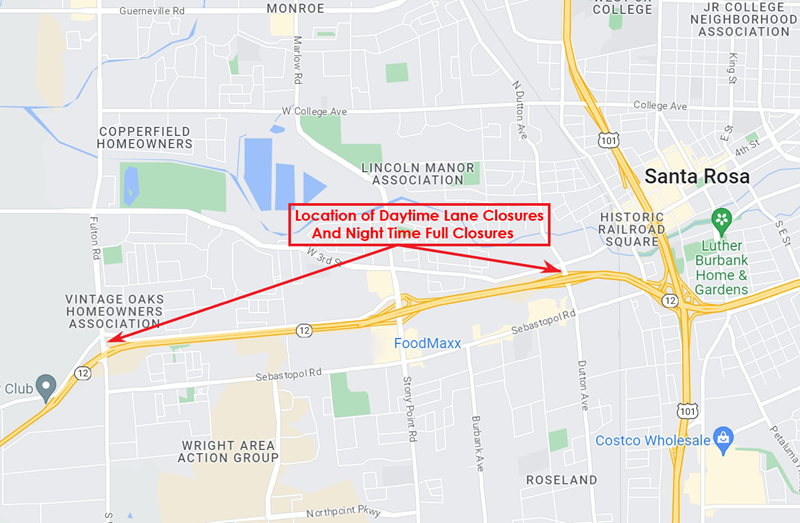 Daytime 8:00 AM - 8:00 PM: One of Two Lanes Open in Each Direction
Nighttime Closures 8:00 PM - 8:00 AM
Eastbound
Right onto Fulton/S Wright Rd,
Left on Sebastopol Rd
Left onto Dutton Avenue
Right onto SR 12 EB Onramp
Left onto Fulton/S Wright Rd,
Right onto 3rd St
Right onto Dutton Ave
Left turn to merge on SR 12 EB Onramp
Westbound
Offramp at Dutton Avenue,
Right at Dutton Avenue,
Left at W 3rd St,
Left at Fulton/S Wright Rd
Right turn onto SR 12 WB
Off ramp at Dutton Avenue,
Left at Dutton Avenue,
Right at Sebastopol Rd,
Right at Fulton/S Wright Rd,
Left onto SR 12 WB