State Route 84 Capital Preventive Maintenance
State Route 84 Capital Preventive Maintenance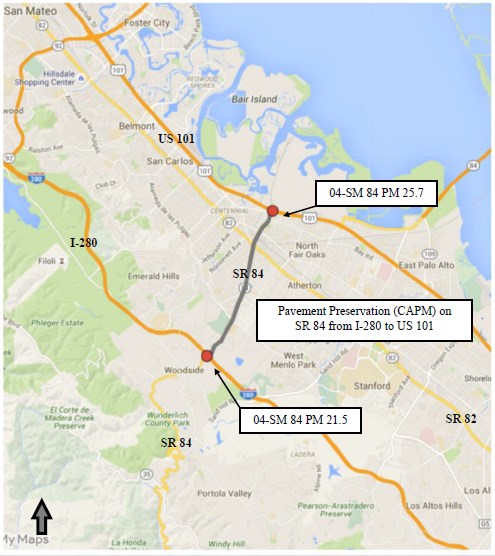 Capital Preventative Maintenance (CAPM) project on State Route 84, in San Mateo County, from I-280 to US 101 (PM 21.5/25.7).
Purpose
Grind and resurface State Rout 84's existing mainline, shoulders, and on-ramps.
Repair, replace, or up-grade curb ramps and metal beam guardrails where necessary.
The purpose of this project is to extend the serviceability of the existing pavement and improve ride quality. A Pavement Condition Survey was performed and indicated minor pavement distress and unacceptable ride quality.
Schedule
Begin Construction: Spring 2024 (Tentative)
Contact Information
For project inquiries please contact:
Alejandro Lopez
Caltrans Public Information Officer – San Mateo County
alejandro.lopez@dot.ca.gov