82 El Camino Real Roadway Renewal
82 El Camino Real Roadway Renewal
The El Camino Real Roadway Renewal team is carefully assessing a critical section of State Route 82 that stretches through the city of Burlingame and touches Hillsborough, San Mateo and Millbrae. This stretch of El Camino Real features the Howard-Ralston Tree Rows, which are listed on the National Register of Historic Places. The purpose of this project is to rehabilitate the roadway, reduce localized flooding, improve visibility, and upgrade pedestrian infrastructure to comply with ADA standards.
Final Environmental Impact Report/Environmental Impact Statement, Final Section 4(f) Evaluation, and Record of Decision (FEIR/FEIS)
Digital version of the FEIR/FEIS is available at www.ecralternatives.com
Hard copy versions of the FEIR/FEIS are available at:

Burlingame Public Library (480 Primrose Road, Burlingame, CA 94010)
Caltrans District 4 Office (111 Grand Avenue, Oakland, CA 94612)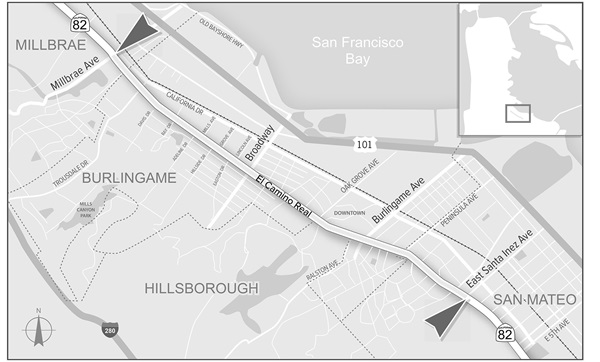 Public Meetings
Tree Workshop – Feb. 9, 2023
Caltrans hosted an El Camino Real Tree Workshop on Thursday, February 9 at the Burlingame Community Center. Since the publication of the FEIR/FEIS in April 2022, Caltrans has been collaborating with the City of Burlingame, Burlingame Historical Society, and other partners to plan the necessary roadway improvements while incorporating community input from previous public meetings and comment periods.
The Tree Workshop was the culmination of outreach and design efforts to-date and tied together previously discussed project elements, constraints, and feedback. The workshop also presented an exciting opportunity for community members to shape how El Camino Real will look and feel for future generations.
You can view a recording of the event and materials presented at the following links:
Past Events
In 2020 and 2021, we hosted a total of five public meetings. In July 2021, we hosted a virtual and an in-person meeting to share information about our Draft Environmental Document. In 2020, we held an Educational Public Open House and two Scoping meetings. We sincerely appreciate your participation and the feedback we've received at the public meetings hosted to date.
Our virtual scoping meeting microsites are still available for your convenience and provide helpful project information including Frequently Asked Questions and archives of materials presented at prior public meetings. Links to each of these active microsites are provided below:
To request the FEIR/FEIS in an alternative format, please contact Caltrans District 4 Public Information Officer:
Alejandro Lopez
alejandro.lopez@dot.ca.gov
510-385-6856