82 El Camino Real Roadway Renewal
82 El Camino Real Roadway Renewal
The El Camino Real Roadway Renewal team is carefully assessing a critical section of State Route 82 that stretches through the city of Burlingame and touches Hillsborough, San Mateo and Millbrae. This stretch of El Camino Real features the Howard-Ralston Tree Rows, which are listed on the National Register of Historic Places. The purpose of this project is to rehabilitate the roadway, reduce localized flooding, improve visibility, and upgrade pedestrian infrastructure to comply with ADA standards.
Draft EIR/EIS is available for Public Review June 10- August 2, 2021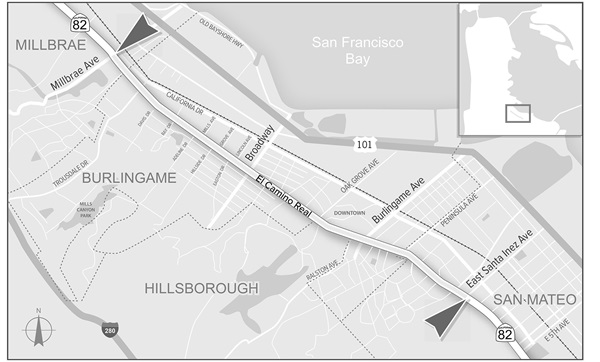 The Caltrans Draft Environmental Impact Report/Environmental Impact
Statement (Draft EIR/EIS) for the El Camino Real Roadway Renewal Project is now available for public review here.
Public Meetings July 14 & July 16, 2021
We invite public comments on the Draft EIR/EIS until August 2, 2021 and we'll hold two public meeting options to help present this information to the public. We'll host a virtual meeting on the evening of July 14, 2021 and an in-person meeting on Friday July 16, 2021. Both events will start at 5:30 pm and end at 7:30 pm. A link to the virtual meeting on July 14 will be available on this webpage on the day of the meeting. The in-person meeting on July 16 will be held outdoors at the Burlingame High School and public health protocols will be followed. Please check this webpage for all meeting details.
Each event will include presentations, visual simulations, cross sections and other exhibits, an opportunity to ask questions, and instructions on how to submit comments on the Draft EIR/EIS.
Share Your Thoughts with Us
We invite public comments on the Draft EIR/EIS until August 2, 2021, and provide two options for submission:
Yolanda Rivas, Senior Environmental Planner
Caltrans District 4
PO Box 23660, MS 8B
Oakland, CA 94623-0660
Thank you to all who attended our Educational Public Open House in January 2020 and our Scoping Meetings in May and November of 2020. We sincerely appreciate your participation in these events.
Your feedback is very important to us and we appreciate all of the public participation we've received at the public meetings hosted to date. Our virtual scoping meeting microsites are still available for your convenience, and provide helpful archives of public materials presented at each of the public meetings. Links to each of these active microsites are provided below:

Each site hosts past meeting materials including presentation videos by our Caltrans project team members, poster galleries, and an archive of print material that was presented at the in-person Educational Open House in January 2020.

To ask questions about this project or to request the Draft EIR/EIS in an alternative format, please contact Caltrans District 4 Public Information Officer;
Alejandro Lopez
alejandro.lopez@dot.ca.gov
510-286-4948