El Camino Real Roadway Renewal
El Camino Real Roadway Renewal
The El Camino Real Roadway Renewal team is carefully assessing a critical section of State Route 82 that stretches through the city of Burlingame and touches Hillsborough, San Mateo and Millbrae. This stretch of El Camino Real features the Howard-Ralston Tree Rows, which are listed on the National Register of Historic Places. Many unique pavement, vegetation, utility, and drainage issues will be studied in the development of this road rehabilitation and ADA improvement project.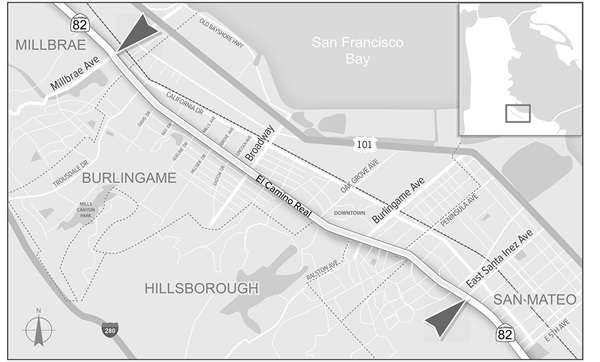 Project Development Process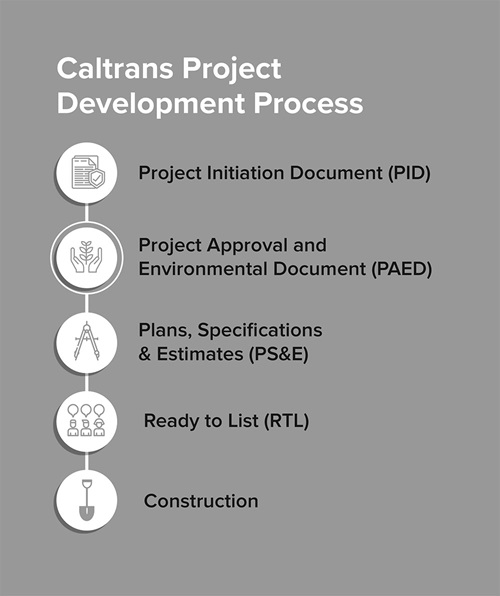 Caltrans is entering the Project Approval and Environmental Document (PAED) phase of work in which numerous technical studies will be undertaken to assess the possible environmental effects associated with needed roadway repairs and accessibility improvements. The possible environmental impacts to be examined include biological, cultural, and visual impacts. Due to the historic classification and cultural significance of the trees along this stretch of El Camino Real, each tree will be examined carefully by landscape architects, engineers, and arborists to answer important questions, such as:
Is the tree healthy overall?
Is the tree structurally sound?
Does the tree obscure drivers' visibility?
Can the tree's roots be protected from drainage, pavement and sidewalk repairs?
Thank you to all who attended our Educational Public Open House on January 28, 2020 at the Burlingame Recreation Center. We sincerely appreciate your participation in this event.
Caltrans is excited to share the progress we've made on the El Camino Real Roadway Renewal Project. Since the scoping meeting in May, we've completed a visual tree survey, studied many environmental resource areas, and worked with our design group to develop alternatives for the project. The next step in our environmental scoping process is to publish a Notice of Intent (NOI) to Prepare an Environmental Impact Report/Environmental Impact Statement (EIR/EIS). To accompany the publication of this NOI, we will host an online forum to give the public an opportunity to review and comment on new information about reasonable alternatives being developed by our team for this project. Please join us on-line to continue the conversation.
A 2nd scoping meeting is being held on-line from November 16-December 17.
This ECR Roadway Renewal Project online public forum will launch the afternoon of Monday, November 16, 2020, and will remain open to the public until December 17, 2020. We are planning to host this public forum using the same microsite platform we used for the May scoping meeting, however, it will have new features that make it even easier for the public to share thoughts, and to see what other community members are saying about the project.
Questions about this project? Please contact Caltrans District 4 Public Information Officer,
Alejandro Lopez:
alejandro.lopez@dot.ca.gov
510-286-4948
Jeffrey Weiss:
jeffrey.weiss@dot.ca.gov
510-286-5543
Publications & Resources