Farallones Avenue Overcrossing
Farallones Avenue Overcrossing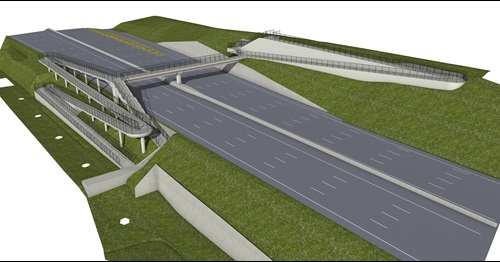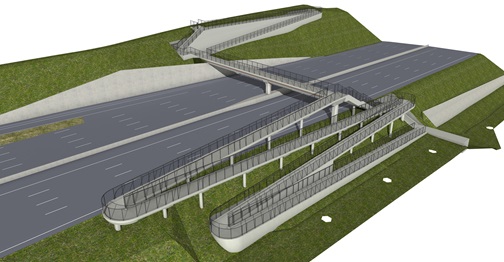 Reducing greenhouse gases is a goal of the state of California. One of the easiest ways to help meet this goal is to encourage its residents to leave their cars at home and use alternative forms of transportation. Whether it's commuting to work or simply going to the local store or park, Californians need an attractive, and functional, alternative to using their cars.
Welcome To The Farallones Avenue Overcrossing Project
Currently in the review process, if it moves forward the Farallones Avenue Overcrossing is planned to begin construction in 2025 and will replace the current pedestrian overcrossing that spans Interstate 280 connecting the Ingleside, Oceanview, and Outer Terrace neighborhoods.
When completed in 2026, the new overcrossing will feature an ADA compliant grade across the highway while featuring an improved width and lighting that will encourage people to reconsider using automobiles for local commuting.
This website will be continually updated with new images and studies related to the project. We encourage you to visit regularly to view the progress of the project and to learn more about it.
The Aesthetic Approach – Blending Functionality And The Area's Natural Beauty
Overall, the aesthetic concepts draw from the unique, natural features of the Ingleside and Excelsior communities. In addition, Interstate 280 roughly follows the historic path of Upper Islais Creek.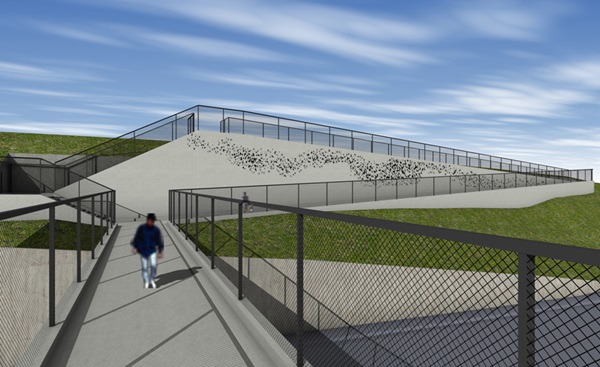 Retaining Wall Option: Murmuration
Colors and textures of the project will seek to reference and unify with vegetation and established objects on both sides of the highway including Muni, BART, and Cayuga Park.

Retaining Wall Option: Murmuration with Trees
Cayuga Park is also on the migratory path of the Cliff Swallow, a bird that is known for its synchronized flying displays. Concepts for the large retaining wall facing the freeway below San Jose Avenue convey movement in the form of a murmuration of birds in flight, referencing the migratory Cliff Swallows that pass-through Cayuga Park while evoking the large trees that reside in the area.