Alameda County I-880 Capital Preventive Maintenance
Alameda County I-880 Capital Preventive Maintenance
Caltrans is undertaking a Capital Preventive Maintenance project to preserve and extend the life of pavement and improve ride quality for 90 lane miles on Interstate 880 in Alameda County. The work includes replacing asphalt surfacing, upgrading curb ramps to ADA standards, enhancing uncontrolled crossing locations with rectangular rapid flashing beacons, upgrading metal beam guardrails, replacing loop detectors, and modifying Traffic Systems and Signs.
Project Details &

Upcoming Overnight Lane Closures

Caltrans is rehabilitating Interstate 880 to provide a smoother ride for motorists in Fremont and Newark, fixing potholes and deteriorated roadway and enhancing safety and mobility on the freeway. The work will start in October 2023 and is expected to finish in 2025.

The work will be performed mainly at night to minimize the impact to motorists on this heavily traveled corridor. One or more lanes will be closed overnight from 8 p.m to 5 a.m in northbound I-880 and 9:30 p.m to 5 a.m in southbound I-880 to accommodate the work. Both northbound and southbound I-880 will be repaved, with digout repair work beginning at spot locations along both directions of the freeway in Fremont and Newark in October 2023.

The work will cover 11.8 miles in each direction from Fremont Boulevard south to the Alameda County/Santa Clara County line, for a total of 90 lane miles. It is the final piece of a major project that has been rehabilitating pavement on the I-880 corridor in Alameda County.

Signage will be provided to alert motorists to the lane closures and California Highway Patrol will be onsite. One or more lanes will be closed to accommodate the work.

Caltrans thanks the traveling public for your patience as we work to improve the bridges, highways and tunnels of the Bay Area.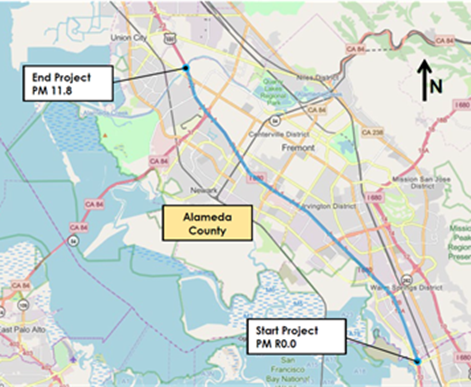 Construction Start: Fall 2023
Construction Finish: Fall 2025
Project Limits
In Alameda County, on Route 880 from Santa Clara County line to north of Fremont Blvd Overcrossing.
Purpose and Need
The purpose of this project is to preserve and extend the life of the existing pavement and improve ride quality. The existing pavement within the project limits is exhibiting distress, which is resulting in poor ride quality. If the pavement is not repaired, it will continue to deteriorate and could lead to the need for a major roadway rehabilitation.
Project Partners
Caltrans, Bay Area Infrastructure Authority (BAIFA) and City of Fremont
Progress to Date
The project was awarded to Bay Cities Paving & Grading, Inc on July 13th, 2023. Contract Approval is anticipated by end of August 2023. The Department is working with the Contractor to review and approval submittals as soon as possible to allow Construction activities to begin around mid-October 2023.