Contra Costa I-80 Pavement Rehab Project
Contra Costa I-80 Pavement Rehab Project
I-80 Contra Costa Paving Project
Westbound I-80 Between Crockett and Hercules
Two Consecutive Weekends
Weekend Lane Closures
Latest Stage of Work
Starts Friday, September 29 at 8:00 PM
Concrete Slab Replacement Work
CONTRA COSTA COUNTY- Caltrans has scheduled two consecutive weekends of weekend lane closures on westbound Interstate-80 (I-80) between Pomona Street in Crockett and Willow Avenue in Hercules
The overnight lane closures will impact the two far-left traffic left lanes on westbound I-80 during two consecutive weekends, the weekends starting the night of Friday, September 29 and the weekend starting the night of Friday, October 6.
Click here to read the full advisory.
---
Alfred Zampa Memorial Bridge: 20 Years in Service
Join Caltrans in celebrating the Alfred Zampa Memorial Bridge's 20 Years of Service over the Carquinez Strait.
---
Media Gallery
Additional project resources including downloadable maps, image galleries, and video clips can be found on the media resources page.
---
Project Information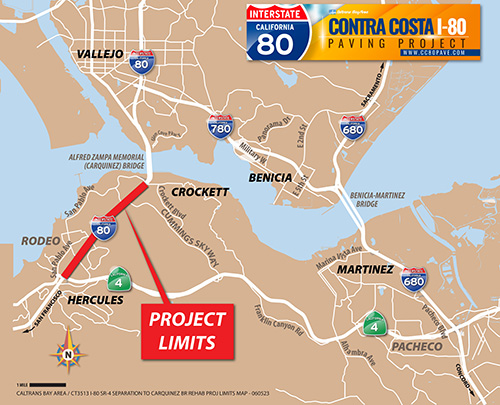 Caltrans is scheduled to close eastbound and westbound I-80 on four different summer weekends between mid-July 2023 and early September 2023. During the 56-hour weekend and 104-hour holiday full highway closures, Caltrans will perform major pavement repair work on eastbound and westbound I-80 in Contra Costa County. One traffic direction on I-80 will be worked on at a time. Detours will be in effect. All work is weather and conditions dependent.
Westbound I-80 Full Highway Closures at I-780
Labor Day Weekend-August 31 until September 5, 2023
A 104-hour full highway closure of westbound I-80 is tentatively scheduled on Labor Day weekend starting on Thursday, August 31 and concluding on Tuesday, September 5, 2023. Westbound I-80 will be closed and traffic detoured beginning at the westbound I-80/I-780 interchange in Vallejo. Closures will tentatively start Thursday after 9 p.m. and conclude on the following Tuesday no later than 5 a.m.
Westbound I-80 Closure Detour Directions
From WB I-80 at I-780 in Vallejo, exit onto eastbound I-780.
Then continue on eastbound I-780 past Benicia.
Continue on southbound I-680 towards Concord.
Exit onto westbound SR-4 towards Richmond/Hercules.
Re-enter westbound I-80 from westbound SR-4 in Hercules.
Why the work is needed?
These full weekend and holiday closures are necessary for worker and public safety during the work. Caltrans will perform major pavement rehabilitation on the two center traffic lanes in both the eastbound and westbound directions of I-80. The roadway has become worn and in need of major repairs due to decades of high traffic use.
Closing I-80 during weekends and holidays instead of 9 months of nightly closures.
These closures will allow for concrete pavement in traffic lanes #2 and #3 to be replaced. These closures will shorten the duration of the project by nine months providing improved safety and better ride quality to the public. These series of weekend and holiday I-80 closures will reduce the number of overnight lane closures needed to complete this work this summer instead of completing in late 2024.
Contact Information
If you have a question or want to share a concern, please call our CC 80 Pave Project Information Hotline at (510) 286-0319.
Or you can email our project email at: cc80pave@dot.ca.gov
CALTRANS THANKS THE PUBLIC FOR ITS PATIENCE AS WE WORK TO MAINTAIN OUR STATE'S HIGHWAYS.