Engineering a Modern Day Icon
Engineering a Modern Day Icon
Remembering the Late Dan Kirkland 1920 - 2020
By Victor Gauthier
One of Caltrans' strong points is its diversity and never was this more apparent than in the story of Dan Kirkland, a pioneering African-American Caltrans Bridge engineer who designed what was at the time one of only two cable-stayed bridges in California: the Meridian Bridge in Yolo County.
Born in 1928 in Sheepshead Bay (a neighborhood in southern Brooklyn, New York City), Dan later relocated to Sacramento, California in the early 1950s, where he, his wife, and three kids would eventually call home.
Dan was hired by the Sacramento office of Caltrans in 1953, beginning an illustrious career spanning 42 years, including designing, constructing, mentoring, assisting, and building. In other words, he did it all. As one of the first African American Bridge engineers at Caltrans, Kirkland was also a trailblazer.
Mr. Kirkland passed away in April of 2020, at the remarkable age of 91. His accomplishments included award winning leadership in pile shaft design for the Century Freeway (since renamed the Glenn Anderson Freeway in Southern California) and his work on the cable-stayed Meridian Bridge.
Dan was well known for his mentorship and positive attitude, and the long list of lives he touched will never be forgotten by his colleagues, friends, and family. He was truly a modern-day icon.
Mr. Kirkland was known to arrive at work every day before the sun came up, at 4:30 AM. Not because he was instructed to do so, but because he loved what he did so much and wanted to be a resource and provide support to anyone that needed it. Engineering was his calling, and he felt fortunate to have found it.
"Dan absolutely loved what he did, but even more than that, he loved helping others," said Dr. Brian Maroney, Seismic Bridge Engineer who worked alongside Dan Kirkland during his tenure with Caltrans. "He was so selfless in his pursuit to mentor and assist others. Dan mentored me. He was the best at what he did, and people knew it. But he didn't carry himself that way; he was a very humble and articulate gentleman."
As dedicated Dan was to his craft, he was just as much as to the service of his family and others. Dan was a lifelong blood donor. So much so that as he got older, the blood donation center had to tell him to stop donating, but he wanted to continue giving blood. "It was important to him to keep helping others," said daughter Shari Kirkland.
During a short break away from Caltrans in the early '70s, Dan's work was recognized by partnering agencies. He went on loan the Bay Area Rapid Transit (BART) system for seismic work on the underwater Transbay Tube, which extends from the western waterway shores of Oakland into the Embarcadero of San Francisco.
From his desk in Sacramento, Dan worked on projects throughout the state.
"Dan Kirkland was one of the best people I've ever met and a very smart and bold engineer," said Chris Traina, Supervising Bridge Engineer and former colleague who worked alongside Kirkland. "Dan led the county on culvert design. During construction work of the Interstate 15 (I-15) in San Diego, they had to a bunch of culverts that needed to be buried, very deep. And Dan figured out a method to successfully make that happen. Dan really took the time to figure things out and always thought about the end-user."
But being a bridge engineer might have been Dan's favorite occupation.
"Now respectfully," said Brian Maroney, "bridge engineer is not something you just become in college. No, It's too complex. You need to have a couple of men or women who have been doing it for a while (10-20- years) to mentor, grandfather you, and that's what Mr. Kirkland did for me. He mentored me."
"You have to be in design and construction," Maroney continued, "and you need to be lucky enough to have a very experienced person to take you under their wing. I was lucky enough to have Dan take me under his wing."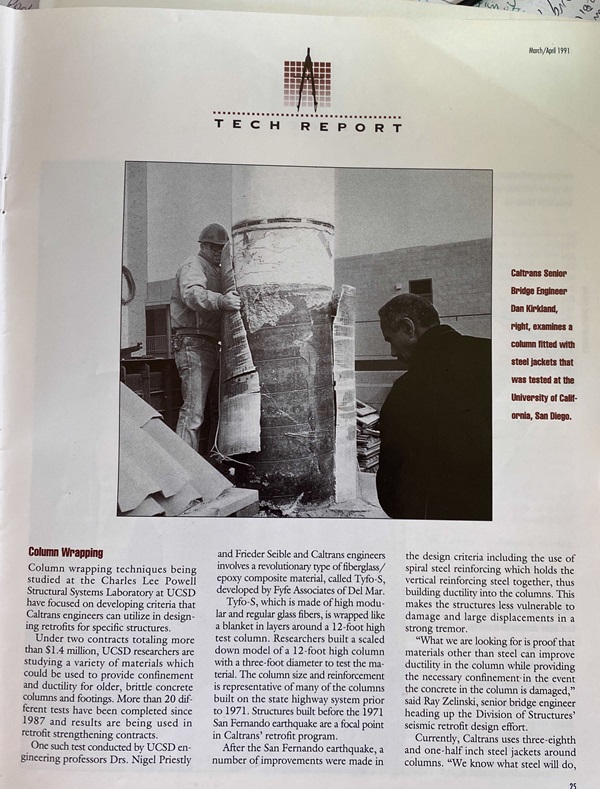 Mr. Kirkland was a trailblazer for African-American Bridge engineers at Caltrans, especially in the 1950s when systemic racism and outright bigotry were common. Mr. Kirkland had a way of seemingly navigating through the challenges while keeping his focus on his purpose: helping others while being a great engineer in the process.
"I am pretty sure there were many racial challenges that dad faced," said his son Mark Kirkland, "but my father never brought those challenges to his family. He always found a way to work through it. He was a strong man, tough and he handled himself with respect and dignity."
Although known for his very technical skill, Dan was also a wonderful father and loving husband. "Dad was so much fun," recalls Shari. "I remember even after a long day of work, he would always attend every sporting event we had, or during Halloween, he would take us, and all the neighborhood kids trick or treating. He was so much fun.".
Like the cable stay bridge Mr. Kirkland he helped design, Dan was robust, and his presence stood tall. "My dad taught us how to be strong, said Mark, "he was the toughest person we knew. But he also taught us the value of education and the importance of doing for others."
The legacy of Dan Kirkland isn't just about a pioneering bridge engineer who designed one of the first cable-stayed bridges in the state, became a leader in pile shift design and culvert work. It's also a story of a strong black man navigating his way through a world that at the time (and some may say still exists today) wasn't designed for him to succeed. But he persevered and advanced beyond the realm of the awards and formal recognition he received.
The definition of an engineer is "a person who designs, builds, or maintains engines, machines, or public works." Dan did that and more. He designed bridges, built relationships, trust and respect, and maintained many friendships throughout his career. His mentorship of young engineers might be one of Caltrans' great "public works," a long list of very successful engineers that will continue to pave the way for future engineers throughout the state.
Mr. Kirkland's memory teaches us that the connections we create and the bridges we build can be strong and enduring as the structures he helped design. His humility and selflessness made him larger than life, as though you could see him from afar, head above the crowd, waiting to lend a helping hand at a moment's notice. His engineering accomplishments and service to others is a legacy that will always inspire friends, family, and the Caltrans community, now and in the future.