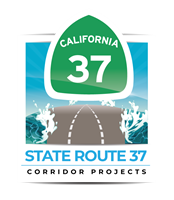 MARIN COUNTY – Caltrans (District 4, Bay Area) invites the public to join a hybrid meeting on Thursday, September 21, 2023, between 6 p.m. and 7:30 p.m. The meeting is accessible online (http://bit.ly/3YZzIRP) or in-person at the Margaret Todd Senior Center in Novato (1560 Hill Road, Novato, CA. 94947).
In this meeting, the Caltrans' Project Development Team will present on the proposed State Route 37 Flood Reduction Project and address any questions from the public.
With this project, Caltrans proposes to reduce flooding from stormwater overtopping and adapt to projected 2130 sea level rise for approximately 2.5 miles from the US-101 interchange to Atherton Avenue on SR 37 in Marin County. The project would replace the Novato Creek Bridge and construct a causeway at an elevation of 35 feet in two phases.
The Draft Environmental Impact Report and Environmental Assessment (DEIR/EA) for the project has been released, and Caltrans welcomes public comments during the 45-day public comment period between Aug. 25 and Oct. 8, 2023. The link to the DEIR/EA can be found here. (bit.ly/486V9Ep)
For comments, email SR37FloodProject@dot.ca.gov, submit a physical comment card in person at the upcoming public meeting or send postal mail to Skylar Nguyen, Caltrans District 4, P.O. Box 23660, MS: 8B, Oakland, CA 94623-0660.
###