Closure starts on Tuesday, July 4th from 8:00 a.m. to 2:00 p.m.
Parade begins at 10:00 a.m. to 12:00 p.m.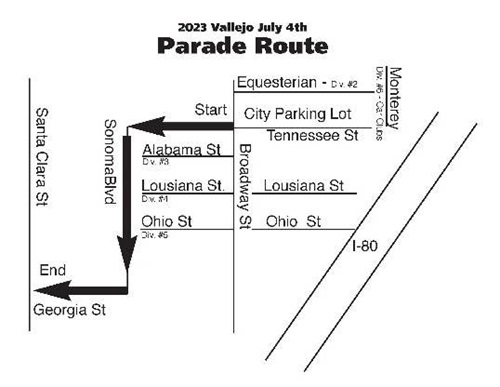 SOLANO COUNTY- Caltrans is scheduled to close parts of State Route 29/Sonoma Blvd in the City of Vallejo.
The closures will begin at 8:00 a.m. to 2:00 p.m. on Sonoma Blvd. between Georgia Street and Garford Alley in Vallejo.
The parade will begin at 12:00 p.m. and starts at Tennessee St. and Broadway and takes the traditional route west to Sonoma Blvd.… then south on Sonoma … then west again on Georgina Street … through the beautiful Downtown to end on Georgia and Santa Clara Streets.
For more information on the parade: https://www.visitvallejo.com/events/upcoming-events/vallejo-parade-2023
Caltrans will update its Twitter page at https://twitter.com/CaltransD4 on the latest highway conditions, and drivers are encouraged to check out Caltrans Quickmap http://quickmap.dot.ca.gov/
###