(One-way traffic will be in place from 8:00 P.M. to 5:00 A.M.)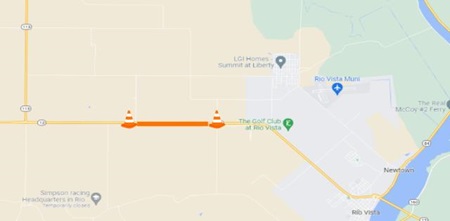 SOLANO COUNTY- Caltrans is scheduled to perform pavement rehabilitation work and drainage crossing reconstruction which involves construction work on State Route 12 (SR-12) between the McCloskey Road and Azevedo Road in Rio Vista.
The work is scheduled each weeknight starting on Wednesday, July 5 and is scheduled to be completed at the end of August 2023.
Each night, work will start at 8:00 p.m. until the following morning at 5:00 AM.
For worker and public safety, one-way reverse traffic controls will be in effect during the work. Flaggers will be placed on various stations to direct Caltrans vehicles and commuters.
During one-way reverse traffic controls, crews will alternate lane closures in the eastbound and westbound directions on SR-12. This will allow motorists to continue using SR-12 overnight.
All work is weather dependent. The work may be extended or rescheduled due to inclement weather.
Caltrans will update its Twitter page at https://twitter.com/CaltransD4 on the latest highway conditions, and drivers are encouraged to check out Caltrans Quickmap http://quickmap.dot.ca.gov/
###