ALAMEDA AND CONTRA COSTA COUNTIES – Caltrans has scheduled the closure of northbound Interstate 680 in Sunol between State Route 84 and Sunol Boulevard for the entire Martin Luther King, Jr. three-day holiday weekend for paving work.
The I-680 freeway will be closed in the northbound direction beginning at 8:00 p.m. on Friday, January 13, 2023, and will be reopened to traffic on Tuesday, January 17, 2023 at 5:00 a.m. In the case of rain or unanticipated developments, the closure will be rescheduled and the public will be notified.
During this closure, the contractor will work around the clock to remove and replace entire sections of the freeway. The work includes repaving the freeway. The work is part of a project encompassing northbound I-680 between Sunol and San Ramon to improve the freeway to enhance safety and provide a smoother ride for motorists.
Portable changeable message signs will be placed prior to closure advising motorists of this closure and will remain in effect throughout the three-day weekend while work is being performed.
Southbound I-680 will remain open and will not be affected by the closure.
Caltrans is aware that the closures will impact the motoring public and every step is being taken to minimize inconvenience. Caltrans thanks the motoring public in advance for your patience as we work to improve I-680.
California Highway Patrol officers and message signs will be on hand to guide motorists. Detours for the closures are as follows:
Detours:
Regional detours will be activated to advise motorists coming from the South Bay to take I-880/SR-238/I-580 instead of I-680.
For closures between the Koopman Road and Sunol Boulevard interchanges:
680 North Traffic
Exit I-680 at Calaveras, take Paloma Way, take Pleasanton Sunol Road and re-enter northbound I-680 at Sunol Boulevard.

580 East Traffic
Take eastbound SR-84 to I-580.
For more information, please visit our website at www.680paving.com.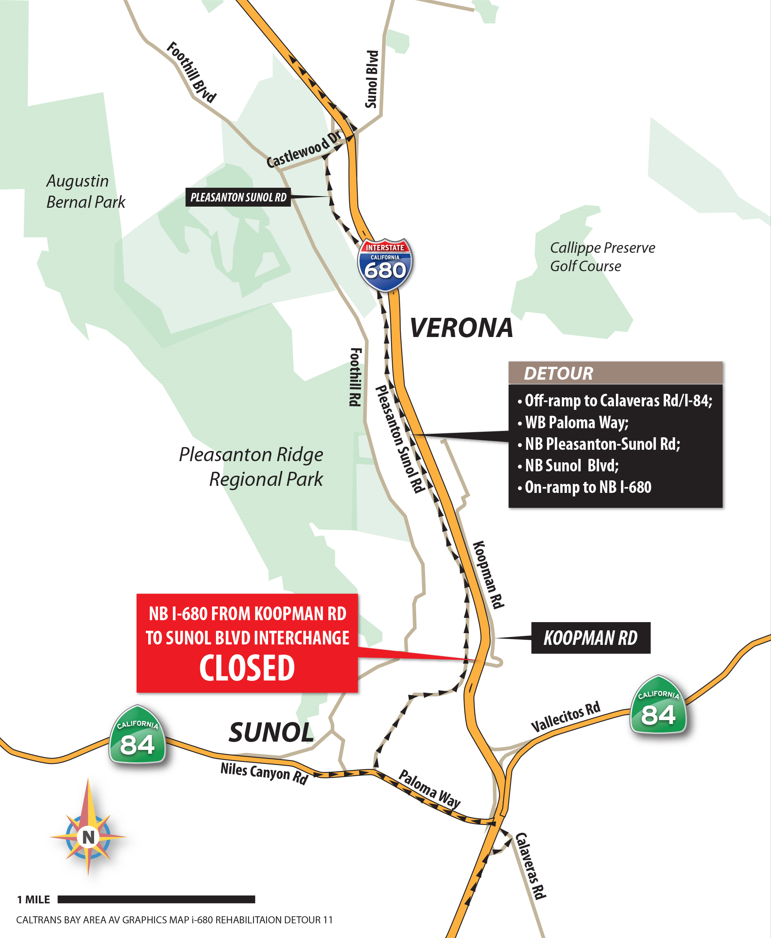 ###
| CleanCA.com | #BeWorkZoneAlert | Twitter | Facebook | YouTube |