District: 04 – Bay Area
Contact: Jeff Weiss
Phone: (510) 715-8770
Night Closures on U.S. Hwy 101 between Healdsburg and Geyserville as Caltrans Installs New Drainage Culverts
Six-Month Project begins Monday, May 3, 2021
SONOMA COUNTY – Caltrans will begin a project to replace 25 drainage culverts on U.S. Highway 101 from Dry Creek Road in Healdsburg to Canyon Road in Geyserville, an eight-mile stretch of highway in northcentral Sonoma County.

The six-month culvert replacement project begins Monday, May 3, 2021, and ends in late October 2021. On work nights, construction crews will close a freeway lane on either northbound or southbound Highway 101, Sunday – Thursday, 8:00 PM – 6:00 AM.

Northbound and southbound closures will not occur on the same night. There will be one lane open in one direction, and two-lanes open in the other on work nights.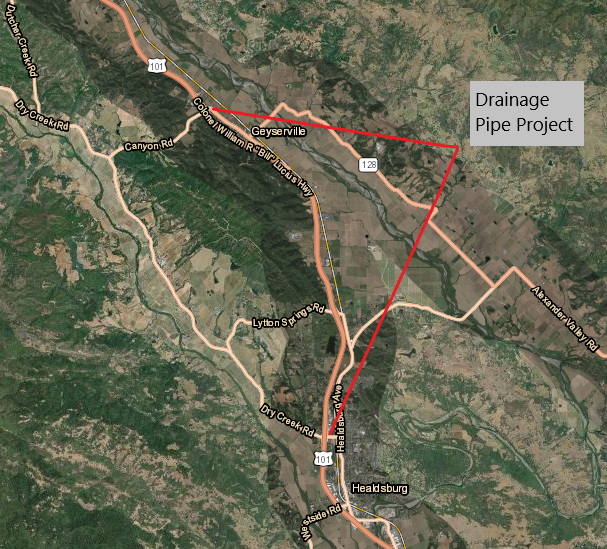 The drainage culverts run transversely to the highway and have reached the end of their useful life. Work crews will not need a large area to install each new pipe, so lane closures will approximately one-mile long.

Work crews will saw through the concrete and asphalt and lay new sections of culverts before repaving with the same materials. Work must be completed before the end of October to comply with a stormwater permit.

For 24/7 traffic updates, go to 511.org: https://twitter.com/511SFBay You can also get real-time information on all State Highways in California on our Caltrans Quick Map: http://quickmap.dot.ca.gov/
Please be #WorkZoneAlert
Or follow Caltrans on Twitter at https://twitter.com/CaltransD4