District: Four - Oakland
Contact: Pedro Quintana
Phone: (510) 867-6028
Email: Pedro.Quintana@dot.ca.gov
Highway lane closures and detour routes are planned
Springs Road Detour Starting the week of Nov. 16, 2020
Solano County - Caltrans will begin construction on the Interstate 80 Six Bridges Project in Vallejo. Crews will increase the vertical clearance on six overcrossings that cross over Interstate
80 (I-80) in the City of Vallejo just north of the Carquinez Bridge.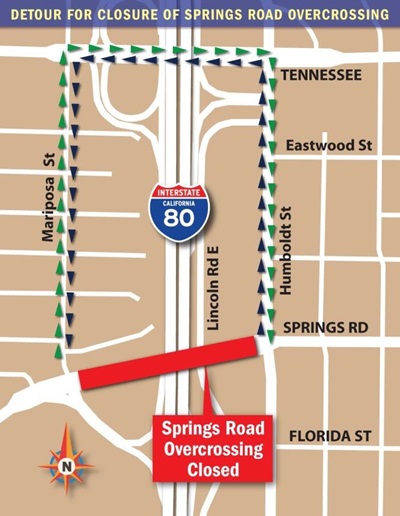 The bridges will be worked on one at a time, starting with Springs Road, Magazine Street, Benicia Road, Georgia Street, Tennessee Street, and Redwood Street.
SPRINGS ROAD BRIDGE CLOSED AT INTERSTATE 80 BEGINNING THE WEEK OF NOVEMBER 16, 2020
To ensure worker and public safety, eastbound and westbound Springs Road will be closed at Interstate 80 for
4 months starting on the week of November 16, 2020 until mid-February 2021.

Springs Road Bridge Detour Route

Westbound Detour:

Motorists traveling westbound on Springs Road will need to turn right onto
Humboldt Street, make a left turn onto westbound Tennessee Street, make another left turn onto southbound Mariposa Street and back to Springs Road.

Eastbound Detour:

Motorists traveling eastbound on Springs Road will need to turn left on northbound Mariposa Street, right turn on eastbound Tennessee Street and a right turn onto southbound Humboldt Street to Springs Road.

Springs Road Bridge will be completely closed to motorists, pedestrians and bicyclists, day and night, during the four- month construction period.
SHUTTLE SERVICE AVAILABLE:
A 24-hr shuttle service will be available for
pedestrians and bicyclists who need to cross Springs Road Bridge .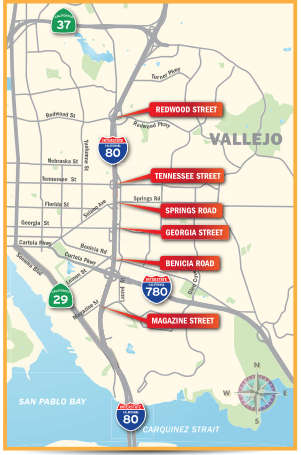 Shuttle service information will be available at i80sixbridgesvallejo.com during
Springs Road Bridge Closure.

Caltrans Bay Area and Solano County Transit (SolTrans) is collaborating on making sure bus services will continue to run in the area while the construction is underway.

Routes 7A&7B will detour around Springs Rd overcrossing to Tennessee Street causing a 5-10 minute delay after the following stops
7A – Springs & Humboldt (Stop ID 822060)
7B – Florida & Solano (Stop ID 821096)
Vallejo Transit Center departure times will not be affected. For real-time bus information and route schedules visit SolTrans.org

Learn more about I-80 Six Bridges project on our Caltrans Bay Area webpage.

Project Webpage: i80sixbridgesvallejo.com

For 24/7 traffic updates, please visit 511.org: https://twitter.com/511SFBay

For real-time information, please visit Caltrans QuickMap:
http://quickmap.dot.ca.gov

Or follow Caltrans on Twitter at: https://twitter.com/CaltransD4