District 4 - Oakland
Contact: Janis Mara
Phone: (510) 715-9291
Email: Janis.Mara@dot.ca.gov
For Routine Inspection September 1
Alameda County — Caltrans has scheduled an overnight closure of the Webster Tube (State Route 61) the night of Tuesday, September 1 beginning at 9:30 p.m. until 4:30 a.m. the following morning, September 2 to accommodate a routine inspection.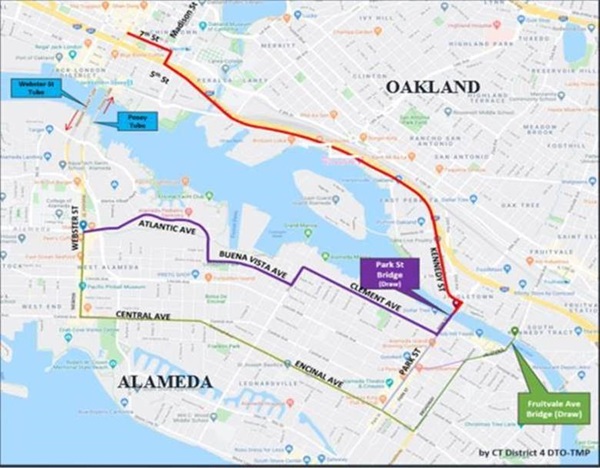 Traffic Control Measures:

Changeable message and directional signs will be in place to assist motorists traveling in the area. The California Highway Patrol (CHP) will be at the site during the closure.

Detours are as follows:

From Oakland— Travel south along I-880 and cross the Oakland Estuary via the Park Street Bridge.

From Alameda— Travel east to Atlantic Avenue and cross over the estuary at the Park Street Bridge.

Please drive with caution. Slow for the Cone Zone and Be Work Zone Alert. Caltrans thanks motorists for their patience while we work to maintain our state's highways, bridges, and tunnels.

For 24/7 traffic updates, follow 511.org: https://twitter.com/511SFBAY. For real-time traffic, click on Caltrans QuickMap: http://quickmap.dot.ca.gov/.