District: 04 – Bay Area
Contact: Stephen Chun
Phone: (510) 286-5705
FULL CLOSURE AND LANE CLOSURES
SAN FRANCISCO | PAVEMENT REPAIR WORK | LANE STRIPING
STARTS TUESDAY,
MAY 26 AT 10:00 PM THROUGH SATURDAY, MAY 30 AT 6:00 PM
San Francisco–Caltrans has scheduled a full closure on Southbound (SB) State Route-1 / Veterans Blvd through the General Douglas MacArthur Tunnel between the U.S. 101 / SR-1 connector (Presidio Drive) and Lake Street in San Francisco for tonight Tuesday, May 26 at 10:00 PM until Wednesday May 27 at 8:00 AM, conditions permitting. The detour map is attached for reference.

For the remainder of the week, the roadway will be reduced to one lane in both directions for lane striping starting Wednesday, May 27 through Friday May 29 from 9:00 AM to 9:00 PM on NB/SB SR-1 between Fulton Street through the MacArthur tunnel out to the U.S. 101 / SR-1 connector (Presidio Drive), conditions permitting. Work will continue on Saturday, May 30 from 7:00 AM to 6:00 PM between Lincoln Way and Fulton Street with the same lane configuration. There will be no work on Sunday, May 31.

Caltrans will perform pavement repair work in the MacArthur Tunnel and lane striping on SR-1 / Park Presidio Blvd. Once completed, residents and motorists will benefit from a safer, smoother drive. Watch for detours. Caltrans thanks everyone for their patience as we maintain our state's highways.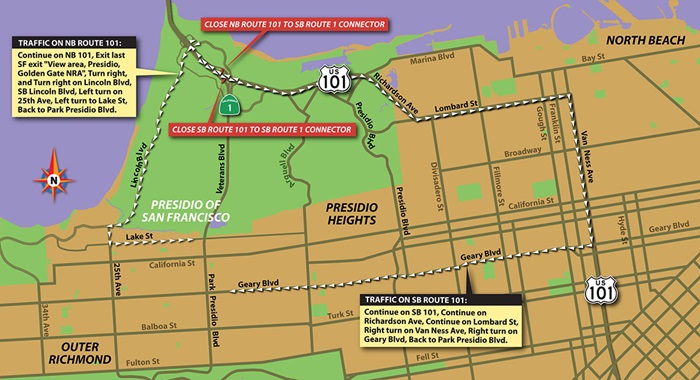 For Caltrans on Twitter, please visit: https://twitter.com/CaltransD4
For 24/7 traffic updates, please visit 511.org: https://twitter.com/511SFBay
For real-time information, please visit Caltrans QuickMap: http://quickmap.dot.ca.gov