District: Four - Oakland
Contact: Janis Mara
Phone: (510) 622-5978
Email: Janis.Mara@dot.ca.gov
Near Jackson Street Onramp For Deck Work April 22-23, 2020
(Oakland)—Caltrans has scheduled temporary overnight closures of two lanes of southbound Interstate 880 and one lane of the southbound Interstate 980 connector near the Jackson Street onramp in downtown Oakland beginning April 22 and ending April 23.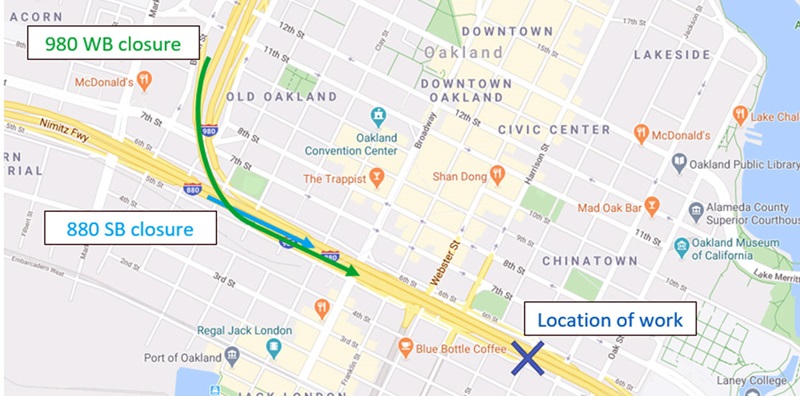 The work will be performed overnight, between 6:00 PM Wednesday, April 22 and 1:00 PM Thursday, April 23. One lane on both freeways will be open at all times. The purpose of the closure is to accommodate deck work on I-880.
Signs will be in place to notify motorists of the lane closures.
Caltrans thanks motorists for their patience while we work to maintain our state's highways, bridges and tunnels. Please drive with caution. Slow for the Cone Zone and Be Work Zone Alert.
For 24/7 traffic updates, follow 511.org: https://twitter.com/511SFBAY. For real-time traffic, click on Caltrans QuickMap: http://quickmap.dot.ca.gov/.