District:04 – Bay Area
Contact: Jeff Weiss
Phone: 510-286-5543

Lane closures extend two miles south, beginning at Petaluma Boulevard South/Kastania Road in Petaluma
Sonoma County – Caltrans began a project today, April 15, 2020, to pave a one-mile section of Highway 101 in Sonoma County, starting at the Petaluma Boulevard South/Kastania Road junction and southerly to within two-miles of the Marin border.
Caltrans will close two lanes in each direction for approximately three weeks between 7:00 AM and 8:00 PM, taking advantage of light traffic caused by the Covid-19 shelter-in-place restrictions.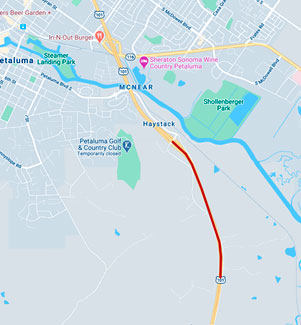 Caltrans had scheduled the paving for mid-June to mid-August 2020, work that would have been done at night to minimize traffic impacts. However, the current shelter-in-place orders have dramatically reduced traffic, allowing Caltrans to advance the schedule by two-months and work during the day.
Daytime work saves time, money, and eliminates nighttime construction noise that affects nearby residents. Also, paving is safer during the day for workers and motorists because of better visibility.
The original project was scheduled for June because nighttime temperatures are much warmer in the summer. Asphalt won't cure properly if the temperature dips too low.
The paving project is part of the Marin-Sonoma Narrows (MSN) project, a series of 13 projects to widen Highway 101 by adding a carpool lane in each direction from State Route 37 in Marin County to Corona Road in Petaluma, a distance of 16 miles.