District: Four - Oakland
Contact: Janis Mara
Phone: (510) 622-5978


Foothill Boulevard Onramp Temporary Weekend Closure
In San Leandro March 20-23
Part of MacArthur Boulevard Also to Close
San Leandro -Caltrans has scheduled to temporarily close the southbound Foothill Boulevard onramp to eastbound Interstate 580 in San Leandro beginning at 6:00 PM Friday, March 20 and re-opening at 6:00 AM Monday, March 23.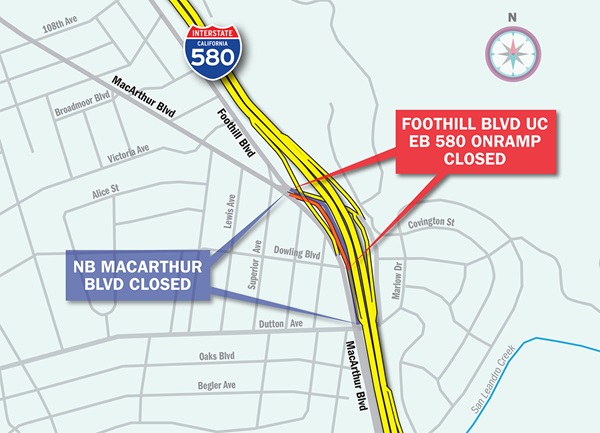 The closure will accommodate the replacement of part of the onramp and other work on the bridge. Northbound MacArthur Boulevard will also be completely closed between Dutton Avenue and the Foothill Boulevard onramp between 6:00 PM March 20 and 6:00 AM March 23. Detours will be in effect.

Motorists should watch for detour signs and expect delays. Caltrans thanks motorists for their patience while we work to maintain our state's highways, bridges and tunnels.