District: Four - Oakland
Contact: Janis Mara
Phone: (510) 622-5978
Scheduled to Return by Late February
Solano County—The State Route 84 (SR-84) Real McCoy Ferry continues to be out of service and is scheduled to return to service by late February.

The Delta's companion ferry, the SR-220 J-Mack Ferry, remains in service and is available for crossings on demand 24 hours per day, 365 days a year.

The Real McCoy provides service to Ryer Island and its visitors by crossing the Cache Slough in Rio Vista. In recent months, the ferry was taken out of service in order to undergo repairs due to structural failure in the hull.

Repairs have not yet been completed. Caltrans is continuing to work to return the ferry to service as soon as possible. The ferry is anticipated to return to service in late February. If repairs can be completed sooner, the ferry will be immediately returned to service and the public will be notified.

While at a boat repair facility for the repairs, the Real McCoy also has undergone federally mandated Coast Guard inspections. This means that the ferry will not have to be taken out of service for such inspections next year.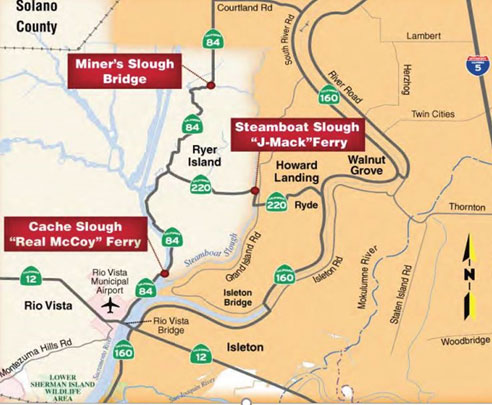 Caltrans thanks motorists, businesses and residents for their patience as we work to restore the Real McCoy to service.
For the latest information, call the Caltrans Ferry Update Line at (510) 622-0120.
Motorists can also find additional information on Caltrans' Delta Ferries webpage.