District: 4 - Oakland
Contact: Chiconda Davis
Phone: (510) 286-1227
To Complete Tunnel Maintenance Tentatively Starts Monday,
January 6 until May 2020
Alameda/Oakland Caltrans will conduct tunnel maintenance on State Route 61 (Webster and Posey Tubes) in the Cities of Alameda and Oakland, Alameda County. This work will include the repair and rehabilitation of the Fire-Life Safety System in both tubes. The work will tentatively begin on Monday, January 6 and continue through May 2020, Monday through Friday from 10:00 PM until 5:00 AM.Shuttle services will be provided for pedestrians and cyclists during the Posey Tube closures.
Closure Information 10:00 PM until 5:00 AM:
Posey Tube (leading into Oakland): Full Tube Closure tentatively begins Monday, January 6 until March 2020, Monday through Friday.
Webster Tube (leading into Alameda): Full Tube Closure begins March 2020 until May 2020, Monday through Friday.
Pedestrians/Cyclists Shuttle Bus For additional information contact (510) 401-4657
Alameda to Oakland Marina Village Parkway Shopping Center, Alameda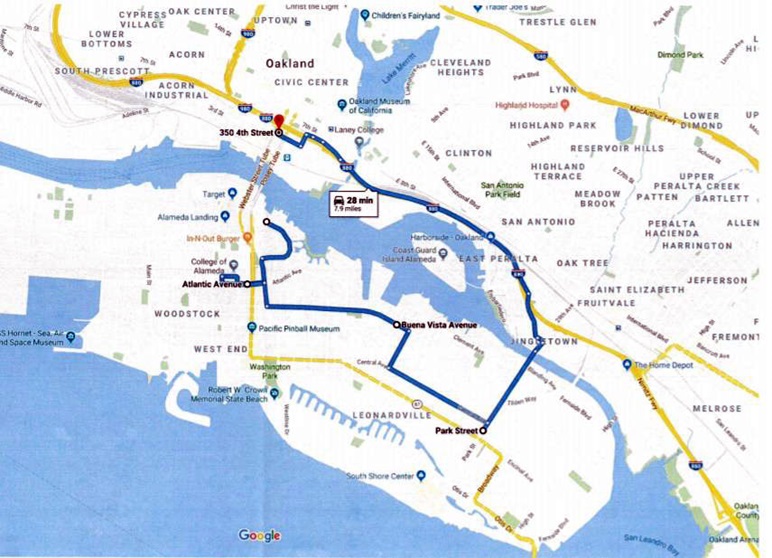 Oakland to Alameda 350 4th Street, Oakland
Traffic Controls Measures:
Changeable message signs and directional signs will be in place to assist motorists traveling in the area. Please follow posted detour information. Motorists are advised to expect delays and allow extra time for their commute. Please drive with caution through the construction zone. Slow for the Cone Zone.
For 24/7 traffic updates, follow 511.org
For real-time traffic, click-on Caltrans QuickMap
Or follow us on Twitter