District: Four - Oakland
Contact: Vince Jacala
Phone: (510) 385-7069
Email: vince.jacala@dot.ca.gov
Northbound State Route 242 (SR-242) in Concord Full Highway Closure During Second Weekend of Work
Starts Friday, July 16 at 10:00 PM until Monday, July 19 at 10:00 AM
Detours in Effect
Motorists Should Expect Delays and Use Alternate Routes
Contra Costa County
Caltrans has scheduled a second weekend of full highway closures on Northbound State Route 242 (SR-242) in Concord. During these closures, Caltrans will complete major roadway rehabilitation work on northbound SR-242. A first weekend of work was completed on Mon., July 12. Northbound SR-242 is scheduled to be closed starting on Friday, July 16 at 10:00 PM until Monday, July 19 at 10:00 AM.

During these closures, northbound SR-242 will be closed between the SR-242/I- 680 separation and the Concord Avenue onramp in Concord. The eastbound Concord Avenue loop on ramp to northbound SR-242 will also be closed during the 60-hour weekend closure. A local detour will be posted. The westbound Concord Avenue diagonal on ramp to northbound SR-242 will not be affected by these closures.
Northbound SR-242 Detour Route
During the Northbound SR-242 closures, motorists heading eastbound towards Pittsburg and Antioch are advised to use Northbound I-680 to connect with Eastbound State Route 4 (SR-4). Local traffic is advised to use alternate routes including Monument Boulevard, Willow Pass Road and Concord Avenue. Motorists should watch for detour signs and expect weekend traffic delays on Willow Pass Road, Monument Boulevard and Concord Avenue.

Project Webpage: https://dot.ca.gov/caltrans-near-me/district-4/d4-projects/d4-concord-242-rehabilitation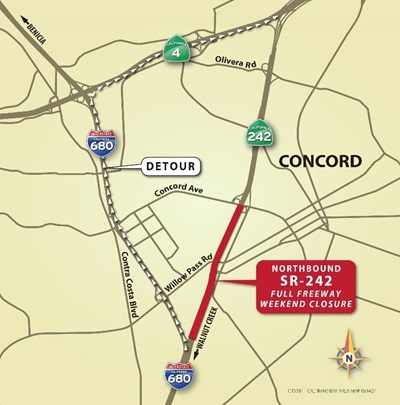 For 24/7 traffic updates, please visit 511.org: https://twitter.com/511SFBay
For real-time information, please visit Caltrans QuickMap:
http://quickmap.dot.ca.gov
Or follow Caltrans on Twitter at: https://twitter.com/CaltransD4