State Route 16: Esparto Improvements Project
State Route 16: Esparto Improvements Project
| | | | | | |
| --- | --- | --- | --- | --- | --- |
| Project Id | EA | District | County | Route | Funding Program |
| 0318000208 | 03-4F171 | 3 | YOL | 16 | SHOPP |
Project Description:
In Yolo County, in Esparto, on Route 16 from Orleans Street to County Road 21A. Pedestrian improvements including crosswalks, curb bulb outs, upgrade curb ramps, improved lighting, green bicycle lane treatment, pavement rehab, parking, and drainage improvements.
Project Location Map: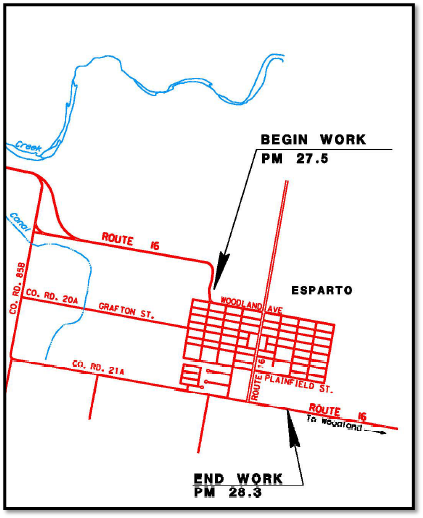 Purpose and Need:
Purpose:
The purpose of this project is to improve safety and operations for all users in Esparto, including pedestrians and bicyclists.
Need:
In Esparto, several types of collisions are being reported, some of which are pedestrian related. There are gaps in sidewalks near the high school and some curb ramps which do not meet ADA standards. The project proposes to improve pedestrian safety and operations for all users by adding:
Bulb-outs to reduce crossing distances for pedestrians at selected intersections
Intersection lighting
Improving curb ramps to current ADA standards
Sidewalks
Texturized crosswalks
Green bicycle lane treatment
Improve drainage
Rehabilitate roadway
Funding:
The project is funded in the 2021 State Highway Operation and Protection Program (SHOPP) through 201.015 Collision Severity Reduction Program.
Cost Estimate:
| | |
| --- | --- |
| Support Cost | $3,540,000 |
| Capital Cost | $3,738,000 |
| Total Project Cost | $7,278,000 |
Schedule:
| | |
| --- | --- |
| Project Approval & Environmental Document (M200) | 6/29/2018 |
| Design Completed (M460) | 10/01/2020 |
| Advertise Project (M480) | 11/02/2020 |
| Begin Construction (M500) | 03/10/2021 |
| Complete Construction (M600) | 07/20/2022 |
| End Construction (M800) | 11/01/2025 |
Project Contacts:
Nawid Nessar, Project Manager, (530) 741-5750; Nawid.Nessar@dot.ca.gov
Dennis Keaton, Public Information Officer, (916) 825-5252; Dennis.Keaton@dot.ca.gov