SR 99 RHMA Overlay
SR 99 RHMA Overlay
| Project ID | EA | District | County | Route | Funding Program |
| --- | --- | --- | --- | --- | --- |
| 0315000198 | 0H480 | 03 | SAC | 099 | 20.XX.201.121 |
PROJECT DESCRIPTION:
In Sacramento County on SR 99 near Galt from the San Joaquin County line to Simmerhorn Road (PM 0.1/1.6), and 0.7 miles south of Elk Grove Blvd to Martin Luther King Jr Blvd (PM 11.8/21.6): Pavement rehabilitation; Cold plane mainlines, ramps, and shoulders, dig outs, crack seal, Rubberized Hot Mix Asphalt (gap graded and open graded) overlay, install rumble strips, truss sign structure, curb ramp upgrade, and sidewalk improvements.
The project also proposes to construct three northbound auxiliary lanes (NB Elk Grove Blvd to Laguna Blvd/Bond Rd, NB Laguna Blvd/Bond Rd to Sheldon Rd, and NB Sheldon Rd to Calvine Rd/Cosumnes River Blvd), add additional overhead sings, Midwest Guard Rail Systems, and shoulder paving within the existing edge of pavement.
PROJECT LOCATION MAP: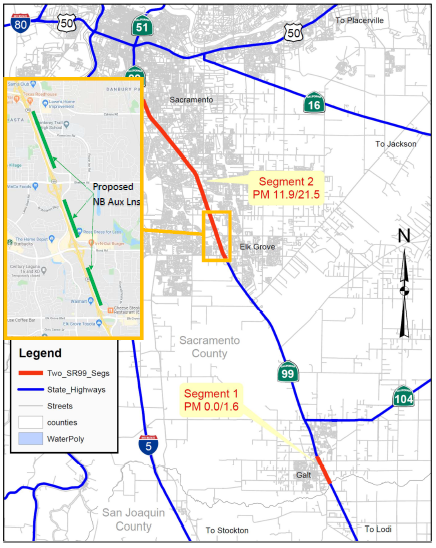 PURPOSE AND NEED:
The purpose of this project is to preserve and extend the life of the existing pavement and improve ride quality. The Pavement Condition Survey for this section of road has an overall PCS/PMS priority number 32 which characterizes the road as having minor pavement distress and acceptable ride.
The project also proposes to enhance safety and improve traffic operations by reducing the weaving of traffic and enhance the traffic flows in general through this corridor with the addition of three northbound auxiliary lane.
COST ESTIMATE:
| Phase | Cost |
| --- | --- |
| Support Cost | $6,590,000 |
| Capital Cost | $39,175,000 |
| Total Project Cost | $45,765,000 |
CONTRACTOR:
Mercer-Fraser Company
SCHEDULE:
| Phase | Date |
| --- | --- |
| Project Approval & Environmental Document (M200) | 05/15/2017 |
| Design Completed (M460) | 03/21/2019 |
| Advertise Project (M480) | 06/03/2019 |
| Begin Construction (M500) | 08/20/2019 |
| Complete Construction (M600) | 05/16/2022 |
| End Construction (M800) | 01/31/2024 |
CURRENT CONSTRUCTION STATUS:
The project is currently under construction and anticipated to be complete by Summer 2022.
PROJECT CONTACTS:
Nawid Nessar, Project Manager, (530) 741-5750; nawid.nessar@dot.ca.gov
Dennis Keaton, Public Information Officer, (916) 825-5252; dennis.keaton@dot.ca.gov