State Route 49 Comprehensive Multimodal Corridor Plan
State Route 49 Comprehensive Multimodal Corridor Plan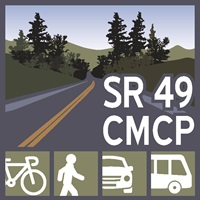 Overview
This effort will develop a comprehensive multimodal corridor plan and concept of operations addressing regional and interregional safety, congestion, accessibility, goods movement, economic development, land use efficiency, public health, air quality, and greenhouse gas emissions for State Route 49 (SR 49) in Nevada and Placer counties. The final product will be developed in collaboration with local agency partners and stakeholders. The plan will provide a range of proposed concepts, evaluate and prioritize improvements within the study limits, and set a solid framework for implementing short- and long-term capital improvements supporting the Road Repair and Accountability Act of 2017 (SB 1) goals and priorities.
What is a Comprehensive Multimodal Corridor Plan?
The SR 49 Comprehensive Multimodal Corridor Plan (CMCP) is based on the California Transportation Commission's 2018 Comprehensive Multimodal Corridor Plan Guidelines. This guidance emphasizes a holistic planning approach that strives to achieve a balanced transportation system. In following with the Guidelines, the SR 49 CMCP will align with the following priorities:
Include local, regional and state agencies in the corridor planning process
Balance infrastructure, livability, economic and sustainability
Provide multimodal, multidisciplinary corridor-based planning
SR 49 CMCP Virtual Open House Video
Corridor Planning Partners
Caltrans began reaching out to our partners in 2020 to initiate the developing of the plan. We will continue our collaboration as the plan develops, as well as add other partners if needed. We are working in partnership with the following entities:
Nevada County Transportation Commission
Placer County Transportation Planning Agency
Nevada County
Placer County
City of Auburn
City of Grass Valley
California Highway Patrol
CalFire
Tribal Representatives
Get Involved
Public Survey
We thank the public for helping with the development of the SR 49 Comprehensive Multimodal Corridor Plan (SR 49 CMCP) because your opinions and needs matter. The survey closed on September 30th, 2021. Thank you again for your participation.
Project News
02.01.22 Caltrans Seeks Community Feedback on Proposed SR-49 Projects
09.09.21 Virtual Open House Video Released for State Route 49 Comprehensive Multimodal Corridor Plan
07.08.21 Caltrans Seeks Community Feedback about Future SR-49 Projects
Project Contact
Will Schilling
D3 Planning
Phone: (530) 821-8409
Email: will.schilling@dot.ca.gov