Delta Bridges Mechanical and Electrical Operational Systems Upgrade
Delta Bridges Mechanical and Electrical Operational Systems Upgrade
Project Facts
| Project ID | EA | District | County | Route | Funding Program |
| --- | --- | --- | --- | --- | --- |
| 0319000123 | 4H950 | 03 | SAC | 160 | Major Damage Restoration |
Project Description
This project is located near City of Rio Vista, in Sacramento County; on State Route 160 at four movable bridges shown in the table below.
| Bridge No. | Bridge Name | Location |
| --- | --- | --- |
| 24-51 | Three Mile Slough Bridge | SAC-160-PM 5.86/5.98 |
| 24-121 | Isleton Bridge | SAC-160-PM 6.98/7.12 |
| 24-52 | Steamboat Slough Bridge | SAC-160-PM 19.76/19.82 |
| 24-53 | Paintersville Bridge | SAC-160-PM 20.87/21.07 |
These bridges operate by electromechanical systems to lift center span or open bascule leaves to allow maritime traffic. The bridges are vital links to interregional commercial and recreational waterway traffic up to and beyond the Cities of Sacramento and West Sacramento. This project provides emergency repairs and improve reliability of the bridge electrical and mechanical operational systems. The Director's Order was approved March 01, 2019.
The intent of the Emergency project is to satisfy the immediate actions and to bring these four bridges to modern standards and to add resiliency to bridge operations. The proposed scope of work includes the mechanical/electrical rehab/upgrade, replacement, repair/adjustment, cleaning, and monitoring/testing, including incidental work at the direction of the Engineer. Other non-operational type work including place catwalk, replace boards, and replace approach railing is not included in the contract.
Project Location Map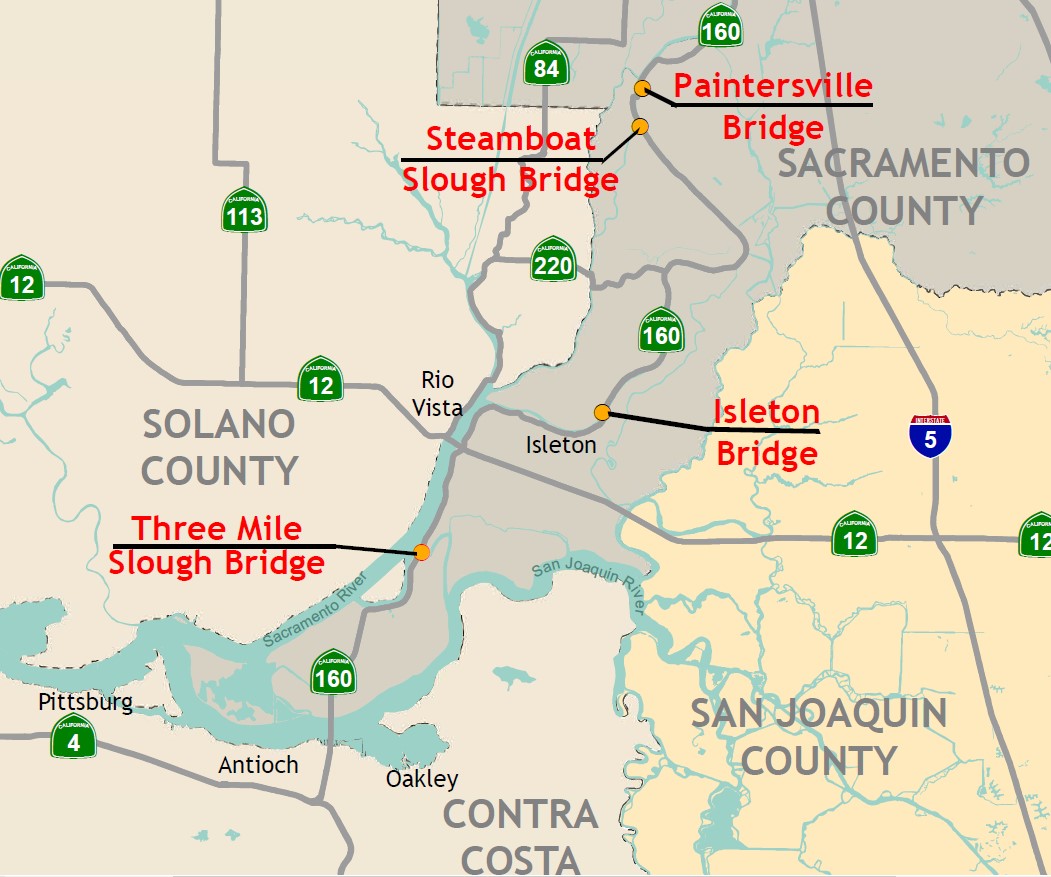 Need And Purpose
Need:
On November 14, 2018, SM&I notified District 3 that as a result of recent operational damage at the Rio Vista bridge (Rio Vista), Br. No 23-24, that caused severe traffic congestion in the Sacramento Delta, there is renewed focus to improve the Delta's movable bridge operations. SM&I has worked closely with the DES mechanical and electrical engineers to develop a list and prioritize all work necessary to assure these movable bridges remain operational and in good working order.
In January 2019, the Department produced a Delta Movable Bridge Management Plan (Plan). The Plan will reduce mechanical and electrical failures and by identifying and immediately repairing critical movable bridge electromechanical system component deficiencies and by providing mechanical system redundancy of these critical components. This will establish backup system in the event of unexpected breakdowns.
The District Director and Executive Management concurred with the Plan and have directed the District to proceed with completing electromechanical work recommendations via a Directors Order.
Purpose:
The purpose of this project is to maintain and extend the functionality for both waterway and roadway transport along the State Route 160 corridor. Many of the bridge components have provided an extended service life and need repair, replacement, or upgrade of electrical and mechanical operational systems. It also includes assessing and repairing and/or upgrading mechanical and electrical components (motors, gears, powered backup systems, lift cables, ropes, power and communication lines, modern control systems, etc.); Expert and peer review to advise designers and contractors on systems and repair methods; Upgrading signage and lighting; and placing a new lightweight bridge deck on the lift span.
Funding
Project funded from State Highway Account (SHA) under 20.XX.201.130 Major Damage Restoration.
Cost Estimate
| Component | Support | Capital |
| --- | --- | --- |
| PA&ED | n/a | n/a |
| PS&E | n/a | n/a |
| Right of Way | $50,000 | $10,000 |
| Construction | $6,500,000 | $20,000,000 |
| Total | $6,550,000 | $20,010,000 |
Total Project Cost: $26,560,000
Funding Sources:
$25,248,498 from Senate Bill 1 (SB1) the Road Repair and Accountability Act of 2017
$1,311,502 from State Highway Account
Schedule
Begin Construction: 08/26/2019
Complete Construction (M600): 09/01/2023
End Construction (M800): 11/03/2025
Project Contacts
Soka Soka, Project Manager, (530) 682-6236; soka.soka@dot.ca.gov
Dennis Keaton, Public Information Officer, (916) 825-5252; dennis.keation@dot.ca.gov