District: District 3 - Marysville
Amarjeet S. Benipal, District Director
Contact: Jeremy Linder
Phone: (530) 701-5209

FOR IMMEDIATE RELEASE
Roseville/Rocklin – Caltrans is reminding motorists of various lane and ramp closures along Interstate 80 (I-80) as crews continue construction on the I-80 Auxiliary and Fifth Lane Project in Placer County.
Crews are working to relocate the fiber optic lines along eastbound I-80 between Riverside Avenue and Douglas Boulevard. Construction will take place overnight between 7 p.m. and 5 a.m. through Friday morning. Motorists will also see k-rail installation taking place along westbound I-80 with various lane restrictions and ramp closures.

Drainage work is also taking place along eastbound I-80 between the junction with State Route 65 and Rocklin Road. between 9 p.m. and 5 a.m. through Saturday morning. The Rocklin Road off-ramp will be closured along with various lane closures during this time.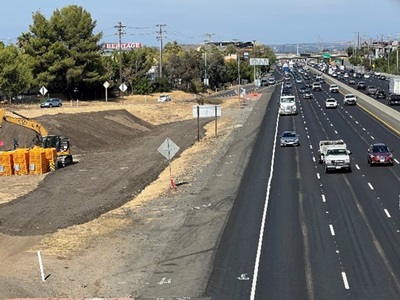 The work is part of a $49.5 million project that will construct an auxiliary lane along eastbound I-80 between SR-65 and Rocklin Road and include a two-lane off-ramp. A fifth lane will be constructed on westbound I-80 between Douglas Boulevard and Riverside Avenue and include reconfiguring the Douglas off-ramp from two lanes to one lane.

Ghilotti Construction Company, Inc. of Santa Rose is the prime contractor. Project completion is expected by summer 2024. The schedule is subject to change due to weather, equipment or material availability or other unexpected events.

The project includes $11.5 million in funding from Senate Bill 1 (SB 1), the Road Repair and Accountability Act of 2017. SB 1 provides $5 billion in transportation funding annually that is shared equally between state and local agencies. Road projects progress through construction phases more quickly based on the availability of SB 1 funds, including projects that are partially funded by SB 1. To view the latest news and information on state and federal infrastructure investments, visit RebuildingCA.ca.gov, which contains data on state and federal funding.

Caltrans District 3 is responsible for maintaining and operating 4,385 lane miles in 11 Sacramento Valley and Northern Sierra counties. Caltrans reminds motorists to "Be Work Zone Alert" and slow in construction zones for the safety of travelers and crews performing these improvements.

The department will issue construction updates on @CaltransDist3 and on Facebook at CaltransDistrict3. For real-time traffic, click on Caltrans' QuickMap or download the QuickMap app from the App Store or Google Play.
| CleanCA.com | CleanWaterCA.com | #BeWorkZoneAlert | Facebook | YouTube |