District: District 3 - Marysville
Contact: Gilbert Mohtes-Chan
Phone: (530) 682-6145
FOR IMMEDIATE RELEASE
Butte County —Caltrans and local officials announced today the completion of the State Route 70 (SR-70) Corridor Improvement and Bridge Project in Southern Butte County, a $63.3 million project made possible with $41.6 million in funding from the federal Infrastructure Investment and Jobs Act (IIJA) as well as $10.4 million in local and $11.8 million in California state funding.
"Safety is always our top priority, and the work accomplished on SR 70 allows motorists to pass slower-moving vehicles more safely and reach their destinations on new, smoother pavement that will serve highway users long into the future," said Caltrans Director Tony Tavares. "The State Route 70 Corridor Improvement and Bridge Project exemplifies the benefits IIJA funding is bringing to Butte County and the state of California."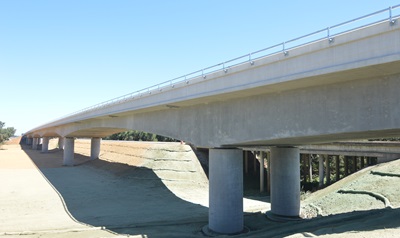 New Honcut Creek Bridge New passing lanes and two-way left turn lanes
The project features new lanes, a center two-way left turn lane, and a new bridge over Honcut Creek at the Butte-Yuba County line. Other improvements included widening the shoulders to eight feet, upgrading drainage systems, and establishing a clear recovery zone, which is an area for vehicles to pull off the roadway if needed and safely return to the highway.
SR-70 is a major economic corridor in Butte County, connecting commuters and commercial freight operations between the Oroville and Chico areas and the Sacramento region. Approximately 17,000 vehicles and approximately 900 trucks per day use this segment of the highway on average.
"The completion of this capstone project provides immediate safety benefits, improved traffic flow, and extends the life of a valuable regional thoroughfare," said Caltrans District 3 Director Amarjeet S. Benipal. "Travelers will also notice more comfortable driving conditions thanks to new pavement, passing lanes and wider shoulders."
"Highway 70 is an important artery and economic link between Butte County and the Sacramento area," said Butte County Supervisor Bill Connelly, who also serves as the BCAG director. "Today, we celebrate the many years of hard work by the countless individuals in the county and at Caltrans to complete the widening of the 12-mile segment of Highway 70 between Oroville and the Butte-Yuba County line."
IIJA, also known as the "Bipartisan Infrastructure Law," is a once-in-a-generation investment in our nation's infrastructure to improve the sustainability and resiliency of our energy, water, broadband and transportation systems. Since November 2021, when President Biden signed the IIJA into law, California has received $20 billion in federal infrastructure funding. That includes more than $15 billion in federal transportation funding to upgrade the state's roads, bridges, rail, public transit, airports, electric vehicle charging network, ports and waterways. These transportation investments alone have already created nearly 48,000 jobs.
Caltrans District 3 maintains more than 4,385 lane miles on state highways in 11 Sacramento Valley and Northern Sierra counties. The department issues updates about road conditions on Twitter and on Facebook. For real-time traffic information, go to http://quickmap.dot.ca.gov/ or download the free Caltrans QuickMap app from the App Store or Google Play.

###