Date: September 30, 2022
District: District 3 - Marysville
Contact: Gilbert Mohtes-Chan
Phone: (530) 682-6145
Crews Plan Around-the-Clock One-Way Traffic Control South of Hamilton City
GLENN COUNTY — Caltrans is alerting motorists of upcoming around-the-clock traffic control along a four-mile stretch of State Highway 45 south of Hamilton City.
Starting Monday, October 10, construction crews will begin reversing one-way traffic control 24 hours a day at various locations from County Road 29 to just south of County Road 34 in Glenn County for paving operations. Crews will be operating traffic signal automated flagger devices that feature stop arms. Roadwork is scheduled through mid-November with travel delays of up to 15 minutes anticipated.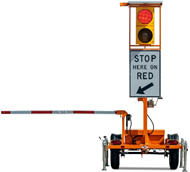 The schedule is subject to change due to weather, equipment or material availability or other unexpected events. Teichert Construction of Sacramento is the contractor for this $1.9 million paving project.
Caltrans advises motorists to "Be Work Zone Alert." The department will issue construction updates on Twitter @CaltransDist3 and on Facebook at CaltransDistrict3. For real-time traffic, click on Caltrans' QuickMap quickmap.dot.ca.gov/ or download the QuickMap app from the App Store or Google Play.