District: District 3 - Marysville
Contact: Raquel Borrayo
Phone: (530) 701-5209
FOR IMMEDIATE RELEASE
Roseville – Caltrans is alerting motorists to expect a daytime closure of the Sunrise Avenue on-ramp to eastbound Interstate 80 (I-80) in Roseville this week for maintenance work.
Caltrans maintenance crews will be conducting biannual bridge inspections in the area Wednesday, requiring a temporary closure of the nearby I-80 tunnel on-ramp from 9 a.m. to 2 p.m.
During the ramp closure, motorists wishing to access I-80 eastbound will be directed to stay on Sunrise Avenue to the Douglas Boulevard intersection, then turn left onto Douglas Boulevard to access the I-80 eastbound slip on-ramp toward Reno.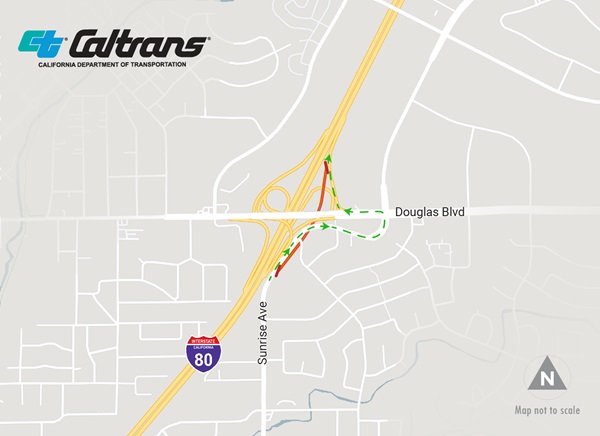 Caltrans District 3 is responsible for maintaining and operating 4,385 lane miles in 11 Sacramento Valley and Northern Sierra counties. For project updates, follow Caltrans District 3 on Twitter @CaltransDist3 and on Facebook at CaltransDistrict3. For real-time traffic, click on Caltrans' Quickmap or download the QuickMap app from the App Store or Google Play.
###