District: District 3 - Marysville
Contact: Gilbert Mohtes-Chan, Angela Daprato
Phone: (530) 682-6145, (916) 826-3093
FOR IMMEDIATE RELEASE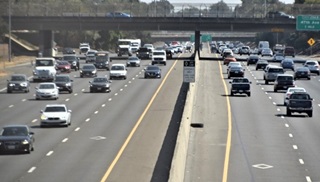 A diamond shape is painted on the pavement of the #1 (left) lanes on northbound and southbound Highway 99 symbolizing the HOV (carpool) lanes. Carpool is two or more persons per vehicle. Carpool hours are Monday through Friday, from 6 a.m. to 10 a.m., and from 3 p.m. to 7 p.m.
Sacramento – The California Department of Transportation (Caltrans) and the California Highway Patrol (CHP) are scheduled to launch a four-week campaign to help reduce the number of High-Occupancy Lane (HOV) violators on a 12-mile stretch of State Route 99 (also known as Highway 99) between the city of Elk Grove and the city of Sacramento.
Overhead changeable message signs are scheduled to be activated the week of September 12 warning motorists of the upcoming campaign.
The CHP maximum enforcement period is scheduled to begin Monday, September 19 until Thursday, October 15 on northbound and southbound SR-99 between Elk Grove Boulevard and the U.S. Highway 50 Junction. CHP will be patrolling the High-Occupancy Lane (HOV) (also known as carpool lanes or diamond lanes) during weekday commute hours from 6 a.m. to 10 a.m., and from 3 p.m. to 7 p.m.
Motorcycles, mass transit, and vehicles with two or more occupants are permitted to use the carpool lanes. An "occupant" is defined as any person who occupies a safety restraint device such as a seat belt. Certain plug-in hybrid, alternative fuel and electric or other clean-air vehicles are exempt from the occupancy requirement. Carpool lanes are open to all vehicles before 6 a.m., after 10 a.m. and after 7 p.m.
Studies indicate HOV lanes are an effective way to promote carpooling and public transit, and improve traffic flow and air quality. They also are an incentive for motorists to purchase zero-emission vehicles.
Recent Caltrans traffic counts report HOV violations at 47 percent on northbound SR-99 and 35 percent for southbound SR-99. Illegal use of HOV lanes during peak periods can increase congestion in HOV lanes and slow traffic below speeds accepted by the Federal Highway Administration (FHWA).
The FHWA requires HOV lane traffic speeds to be 45 mph or greater during peak commute periods 90 percent of the time. If that benchmark falls short, the FHWA designates the HOV lane as degraded and that could prompt Caltrans to consider modifying the occupancy and eligibility requirements of the current carpool lanes.
During the maximum enforcement campaign in Sacramento, Caltrans will be studying the effect of increased CHP presence on Highway 99 to minimize HOV lane violations.
Caltrans District 3 maintains more than 4,385 lanes miles of state highway in 11 Sacramento Valley and Northern Sierra counties. The department issues updates about road conditions on Twitter and on Facebook. For real-time traffic information, go to Caltrans' Quickmap or download the free Caltrans QuickMap app from the App Store or Google Play.
###