District: District 3 - Marysville
Contact: Raquel Borrayo
Phone: (530) 701-5209
FOR IMMEDIATE RELEASE
Placer County – Caltrans is alerting State Route 193 (SR-193) motorists of upcoming traffic holds for rock blasting work next week.
From Tuesday, August 16 through Friday, August 19, SR-193 motorists can expect 15-minute traffic holds between 1 to 2 p.m. for blasting activities. Traffic will be held in both directions between Oak Tree Lane and Sierra College Boulevard for the safety of the traveling public.
Blasting activities are part of encroachment permit work for the development of the Bickford Ranch master planned community in Lincoln. The contractor is installing a sewer line along the eastbound embankment of SR-193. Blasting activities are required to remove hard granite to continue placing the sewer line for the new development.
The schedule is subject to change due to weather, equipment or material availability or other unexpected events.
Caltrans advises motorists to "Be Work Zone Alert." The department will issue project updates on Twitter @CaltransDist3 and on Facebook at CaltransDistrict3. For real-time traffic, click on Caltrans' Quickmap or download the QuickMap app from the App Store or Google Play.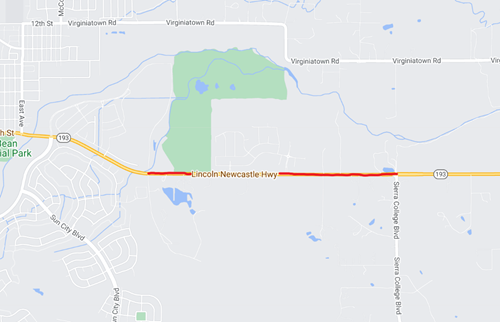 ###