District: District 3 - Marysville
Contact: Steve Nelson
Phone: (530) 701-9459
FOR IMMEDIATE RELEASE
El Dorado County – Caltrans is alerting the traveling public to several ongoing projects impacting traffic on the U.S. Highway 50 corridor in El Dorado County.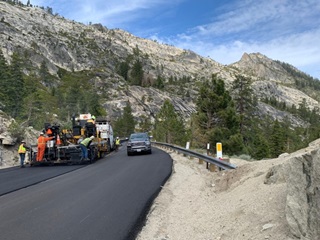 Construction continues on a $55.4 million safety project on Highway 50 from Still Meadows Road to upper Carson Road in Camino to build a continuous concrete median barrier, an undercrossing for access north and south of the highway, drainage improvements, a wildlife undercrossing and a roundabout connecting to the new undercrossing.
Construction started in summer 2020 and is expected to be complete by the end of this year. Security Paving is the primary contractor. El Dorado County contributed $7.1 million to the project for local road improvements.
Two emergency contracts were executed covering a 29-mile stretch of the Highway 50 corridor between Pollock Pines and Meyers to repair infrastructure damaged by the Caldor Fire in August 2021. Granite Construction is working on a $17.1 million project to remove hazardous trees, install slope protection measures, replace drainage systems and guardrail, and repave the roadway from the Caltrans Echo Summit maintenance yard to Upper Truckee Road in Meyers.
Doug Veerkamp General Engineering is performing similar repairs on Highway 50 on a $16.5 million project from Sly Park Road to Sierra-at-Tahoe. Motorists should expect daytime one-way traffic control at multiple locations Monday through Friday. Both emergency contracts will be completed later this summer. No work is scheduled around the Fourth of July holiday weekend.
In Fresh Pond, a 425-foot retaining wall is being built to stabilize the slope along westbound Highway 50. Westbound traffic is reduced to one lane through the construction zone. Bridgeway Civil Constructors is the prime contractor for the $19.1 million project, which will be completed this summer.
Another emergency contract is addressing a sinkhole in the westbound lane of the highway just east of Ice House Road. Motorists should expect one-way traffic control weekdays from 6 a.m. to 4 p.m. this week. Veerkamp also is the contractor for this work.
In addition, a Caltrans maintenance paving operation will require alternating lane closures in both directions from 6 a.m. to 6 p.m. today through Thursday this week on Highway 50/Lake Tahoe Boulevard between Rufus Allen Boulevard and Wildwood Avenue in the city of South Lake Tahoe.
Caltrans reminds motorists to be "Work Zone Alert" and "Slow for the Cone Zone" when traveling through construction areas. The department issues traffic updates on Twitter @CaltransDist3 and on Facebook at CaltransDistrict3. For real-time traffic information, click on Caltrans' Quickmap or download the QuickMap app from the App Store or Google Play.
###