District: District 3 - Marysville
Contact: Raquel Borrayo
Phone: (530) 701-5209
FOR IMMEDIATE RELEASE
Placer County – Caltrans is hosting a community open house in July to seek public feedback about proposed alternatives for a safety and mobility improvement project on Interstate 80 (I-80) in Placer County between Dutch Flat and Drum Forebay.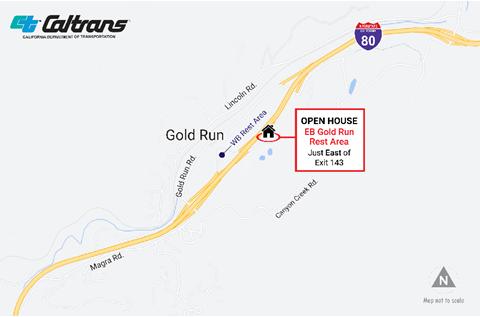 An outdoor public open house will be held Thursday, July 7 from 5 to 6:30 p.m. at the eastbound I-80 Gold Run Rest Area, just east of exit 143.
Community members can view displays with project alternatives and review maps and other materials. Caltrans staff members will be available to answer questions and receive comments from the public.
Caltrans is exploring various alternatives for a $93.5 million project to improve the safety, reliability and freight mobility of I-80 in Placer County from 0.45 miles west of the Monte Vista Overcrossing (post mile 42.7) to 0.3 miles east of the Drum Forebay Overcrossing (post mile 49.3). Proposed improvements include a truck-climbing lane and pavement rehabilitation on eastbound I-80.
The project also will improve drainage systems, address inadequate roadside lighting, upgrade the median barrier, improve Traffic Management System (TMS) elements in the eastbound direction, and construct two wildlife crossing box culverts.
The Environmental Document, referred to as an Initial Study with Negative Declaration, is available for review from June 15, 2022 through July 14, 2022. The document may be viewed at the following locations:
Caltrans District 3
703 B Street
Marysville, CA 95901

Colfax Public Library
10 Church Street
Colfax, CA 95713

The environmental document also is available to view online.
The public is asked to submit comments or questions about the project via postal mail or email by 5 p.m. July 14, 2022.
Monte Vista Pavement Rehabilitation
Attn: Office of Environmental Management
703 B Street
Marysville, CA 95901
Email: monte.vista@dot.ca.gov
District 3 is responsible for maintaining and operating 4,385 lane miles in 11 Sacramento Valley and Northern Sierra counties. For project updates, follow Caltrans District 3 on Twitter @CaltransDist3 and on Facebook at CaltransDistrict3. For real-time traffic, click on Caltrans' Quickmap or download the QuickMap app from the App Store or Google Play.
###
I-80 Monte Vista Pavement Rehabilitation Project Location Map