District: District 3 - Marysville
Contact: Gilbert Mohtes-Chan
Phone: (530) 682-6145
FOR IMMEDIATE RELEASE
Yuba County — Caltrans is alerting Linda area residents and motorists about overnight pile driving for bridge work next week on State Highway 70.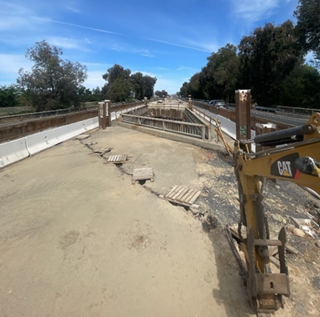 Crews are scheduled to conduct the operation nightly from 9 p.m. to 6 a.m. Monday, June 6 through Thursday, June 9 and 9 p.m. Friday to 8 a.m. Saturday, June 11, working between the E Street Bridge and Erle Road overcrossing. At the same time, motorists may expect north- and southbound left lane closures in the construction zone with travel delays anticipated.
Residents can expect to hear loud, intermittent construction noise and vehicle back-up warning alarms during pile driving activities.
The work is part of a $7.3 million project to construct new bridge rails and a concrete center median barrier between the Feather River Boulevard overcrossing and the North Beale Road on-ramp to northbound Highway 70 at the Marysville Bridge.
Bridgeway Civil Constructors of Vacaville is the contractor with project completion expected this summer.
Weather or unexpected events may delay or prolong the work. Caltrans advises motorists to "Be Work Zone Alert." The department will issue construction updates on Twitter @CaltransDist3 and on Facebook at CaltransDistrict3. For real-time traffic, click on Caltrans' QuickMap or download the QuickMap app from the App Store or Google Play.
###