District: District 3 - Marysville
Contact: Dennis Keaton
Phone: (916) 825-5252
FOR IMMEDIATE RELEASE
YOLO COUNTY – Caltrans is alerting motorists about grinding and paving work on a section of State Highway 16 in the town of Esparto scheduled in June.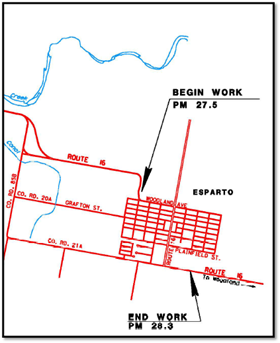 A contractor will be cold planning the highway and applying a hot mix asphalt (HMA) overlay. The work will be done from 7 p.m. to noon June 6-8, 13-14 and 15-16. Unexpected delays may prolong the schedule.
Caltrans will be working with Vanguard Construction of Livermore to grind and repave the roadway. Motorists should expect one-way reversing traffic control with delays of up to 20 minutes. Nearby residents can expect loud construction and commercial truck back-up beeping noises during nighttime to early morning hours.
This $7.3 million project will improve overall safety for all users on this section of State Route 16 from Orleans Street to County Road 21A. Enhancements include crosswalks, curb bulb outs, upgraded curb ramps, improved lighting, green bicycle lane treatments, pavement rehab, parking, and drainage improvements.
Caltrans reminds motorists to "Be Work Zone Alert." Caltrans District 3 is responsible for maintaining and operating 4,385 highway lane miles in 11 Sacramento Valley and Northern Sierra counties. For project updates, follow Caltrans District 3 on Twitter @CaltransDist3 or on Facebook at CaltransDistrict3. For current highway road conditions, visit Caltrans' Quickmap or download the free QuickMap app on the App Store or Google Play.
###