District: District 3 - Marysville
Contact: Gilbert Mohtes-Chan
Phone: (530) 682-6145
FOR IMMEDIATE RELEASE
Sutter County — Caltrans today marked the completion of major streetscape, safety and roadway improvements to the City of Live Oak's "main street" corridor on State Route 99. The $36 million project includes $2.3 million in funding from Senate Bill (SB) 1, the Road Repair and Accountability Act of 2017, and $10 million from the federal Transportation Investment Generating Economic Recovery Grant program.
State, local and federal officials hailed the project during a ribbon cutting ceremony today under the historic Bicentennial Witness Oak Tree, one of only 35 trees nationwide that were standing during the signing of the U.S. Constitution in 1787.
"The new stop lights, longer lasting pavement, additional traffic lanes in each direction as well as decorative streetlamps and other design features balance the community's need to provide local and regional connections with the city's need for a vibrant walkable main street," Caltrans Acting Director Steven Keck said.
The project widened the roadway from two to five lanes, enhanced drainage, and water systems, rehabilitated the highway to a 40-year pavement life, constructed new continuous sidewalks and parking bays, upgraded, and added new stoplights and installed decorative streetlights, benches and bioswales designed to filter roadway runoff before reaching local waterways.
Contractor DeSilva Gates and its subcontractors hired many workers from the Yuba-Sutter and Butte Country regions to work on the project.
"I like it that they can hire people locally," said Jose Valdivia, a 26-year Live Oak resident, who worked for one of the subcontractors on the project. "We're helping the town."
Matthew Brady of Gridley said keeping money in underserved communities such as Live Oak help boost the local economy.
"It's a positive for our economy. These small towns need the money, especially during these times." said Brady, who handled traffic control on the project.
"This project is a great example of how collaboration with our local partners and businesses improve our communities. I am proud of the work of our construction team and the contractor," Caltrans District 3 Director Amarjeet Benipal said. "We're greatly improved traffic flow through town and safety for motorists and pedestrians, especially the many students walking between home and school every day."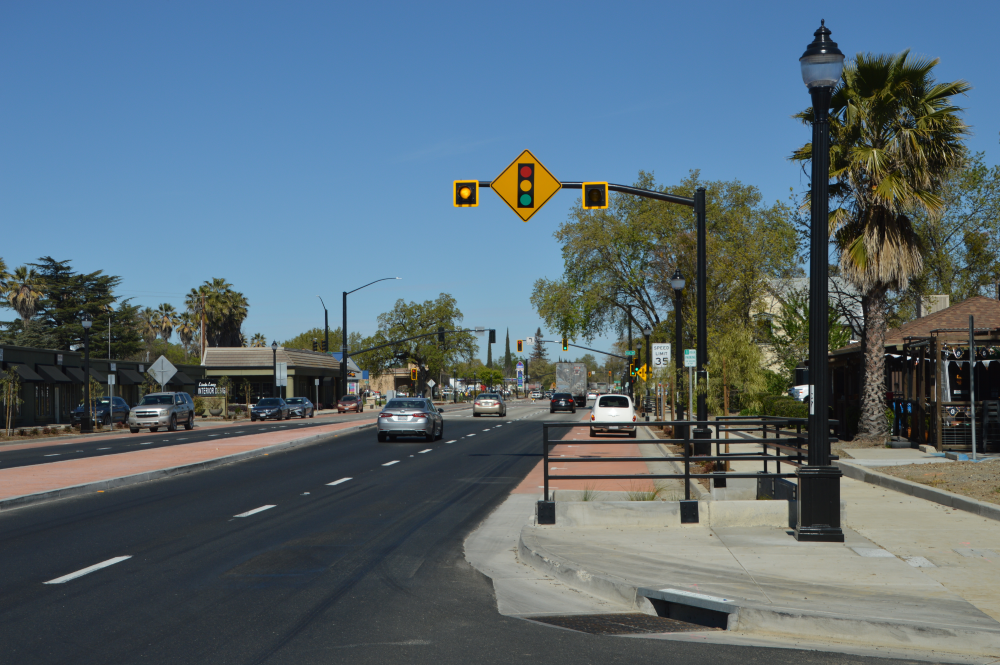 Improvements on northbound State Route 99/Live Oak Boulevard toward Elm Street today.
A photo of northbound SR-99/Live Oak Boulevard near Elm Street in 2018.
###