District: District 3 - Marysville
Contact: Raquel Borrayo
Phone: (530) 701-5209
FOR IMMEDIATE RELEASE
Roseville – Caltrans is alerting pedestrians and bicyclists that the segment of the Miner's Ravine Multi-Use Trail that runs underneath the Interstate 80 (I-80) westbound on-ramp at Atlantic Street is reopening to users Saturday, May 14.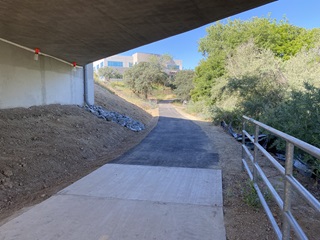 The multi-use trail was closed long term in March 2021 during construction work to widen the I-80 westbound on-ramp from one to three lanes. Heavy equipment and ongoing construction activities required the trail segment closure for the safety of work crews and public members. Caltrans and its contractor recently repaved the multi-use path to provide a smooth surface for all trail adventurers.
Caltrans is also alerting motorists that the I-80 westbound on-ramp at Atlantic Street and the #4/5 (right) lanes on mainline I-80 will be closed nightly from 8 p.m. to 5 a.m. on Monday, May 16 and Tuesday, May 17 for construction activities. Atlantic Street/Eureka Road motorists will be detoured along Harding Boulevard or North Sunrise Avenue to Douglas Boulevard to access I-80 westbound during the overnight ramp closures. Weather or unexpected events may delay or prolong the work.
Construction activities are part of a $12 million project to expand the width of the single-lane Atlantic Street/Eureka Road/Interstate 80 westbound on‐ramp to three lanes and to replace the existing Miner's Ravine Bridge to support the newly widened roadway. The project will reduce significant traffic backup and improve the operation of local streets and intersections.
Caltrans reminds motorists to Be Work Zone Alert and slow in construction zones for the safety of travelers and crews performing these improvements. The department will issue construction updates on Twitter @CaltransDist3 and on Facebook at CaltransDistrict3. For real-time traffic, click on Caltrans' QuickMap or download the QuickMap app from the App Store or Google Play.
###
Westbound I-80 Atlantic Street On-ramp Detour