District: District 3 - Marysville
Contact: Raquel Borrayo
Phone: (530) 701-5209
FOR IMMEDIATE RELEASE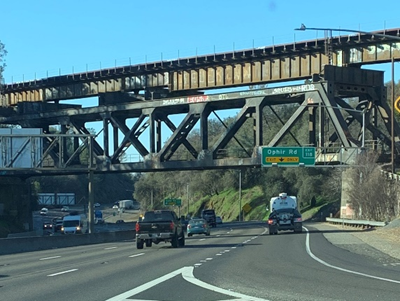 Auburn – Caltrans is notifying motorists of continuing alternating lane and ramp closures on Interstate 80 (I-80) eastbound in Auburn for maintenance work on a Union Pacific Railroad structure that crosses over the freeway.
The work is scheduled Sunday, Feb. 27 from 6:30 a.m. to 5 p.m. Union Pacific will be resuming safety repairs to the rail bridge structure that is used for vital commercial goods transport between northern/central California and Reno, Salt Lake City and the Pacific Northwest. Alternating I-80 lane closures are required due to the potential for falling debris during the overhead railroad work.
Alternating I-80 lane and ramp closures are scheduled as follows:
I-80 eastbound on Sunday, Feb. 27
The #1 (left) and #2 (middle) lanes are scheduled be closed from 6:30 a.m. to 10 a.m.
The #3 (right) lane, Ophir Road on-ramp to eastbound I-80, and Maple Street off-ramp from eastbound I-80 are scheduled to be closed from 10 a.m. to 5 p.m. Motorists are advised to use the State Route 193 on-ramp to I-80 eastbound or the SR-49 north off-ramp (Exit 119B to Grass Valley) as detours.
Questions about the railroad overcrossing repairs may be directed to Union Pacific's Senior Director of Public Affairs Francisco Castillo at (916) 200-6248 or fcastillo@up.com.
Weather or other unexpected incidents may prolong the work. Caltrans and the California Highway Patrol will be monitoring traffic and if delays are deemed to be unacceptable, the closures will be picked up.
District 3 is responsible for maintaining and operating 4,385 lane miles in 11 Sacramento Valley and Northern Sierra counties. Check out Caltrans' "QuickMap" for current road conditions and chain requirements at quickmap.dot.ca.gov/ or download the free QuickMap app on the App Store or Google Play. Motorists also can call the California Highway Information Network automated phone service at 1-800-427-ROAD (7623).
###