District: District 3 - Marysville
Contact: Steve Nelson
Phone: (530) 701-9459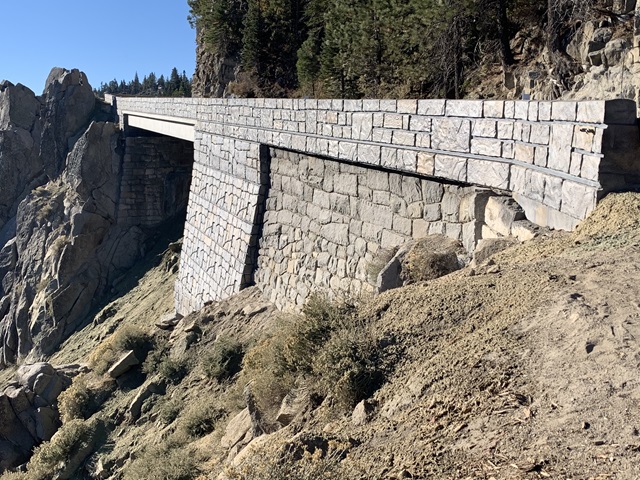 FOR IMMEDIATE RELEASE
EL DORADO COUNTY – The American Association of State Highway and Transportation Officials (AASHTO) recognized Caltrans' U.S. Highway 50 Echo Summit Sidehill Viaduct Replacement project as a winner in their 2021 America's Transportation Awards competition. The project was selected for best use of technology and innovation in the small project category (less than $25 million).
"AASHTO recognized Caltrans for our innovative approach on delivering this important project," said Caltrans Director Toks Omishakin. "The end result is that we were able to significantly expedite construction while improving traveler safety along the Highway 50 corridor."
The $14.1 million project replaced the existing bridge, which had been completed in 1939, with a new structure to meet current seismic and safety standards. Accelerated Bridge Construction concepts incorporated into the project included:
A full closure of Highway 50 in September 2020 for nine days in order to expedite the work. The closure was completed five days ahead of schedule.
Hauling and installing seven 96-foot precast girders from Utah to serve as the bridge deck.
Using ultra high-performance concrete for the first time in a high-elevation area (7,200 feet) to bind the bridge girders together with a faster curing time than traditional concrete.
The project began construction in spring 2019 and was completed in October 2020. It included $5.2 million in funding from Senate Bill (SB) 1, the Road Repair and Accountability Act of 2017.
Q&D Construction of Sparks, Nevada, was the prime contractor on the project.
AASHTO announced the award on September 15 at a meeting of departments of transportation in Utah. Echo Summit was one of eight projects to earn western regional honors in the 2021 awards competition.
"I'm appreciative of everyone who worked on this project to think creatively on how to lessen the impact on the traveling public while still building a quality structure that will safely serve motorists for decades to come," said Caltrans District 3 Director Amarjeet S. Benipal.
SB 1 provides $5 billion in transportation funding annually split between the state and local agencies. Road projects progress through construction phases more quickly based on the availability of SB 1 funds, including projects that are partially funded by SB 1. For more information about other transportation projects funded by SB 1, visit RebuildingCA.
The three highest-scoring projects from each of the four regional competitions will earn a place on the "Top 12" list of projects that will compete for the national grand prize – selected by an independent panel of industry judges – and the People's Choice Award, chosen by the public through online voting. Those top three national winners will receive $10,000 to be donated to a charity or scholarship of their choice.
AASHTO will announce the projects vying for the Grand Prize and People's Choice awards later this month, with online voting for the People's Choice award beginning at the same time. Winners will be announced in October. Visit America's Transportation Awards to learn more about this year's nominees.
###