District: District 3 - Marysville
Contact: Steve Nelson
Phone: (530) 701-9459
For Immediate Release
Placerville – Caltrans is advising motorists of highway repair work on a segment of State Highway 49 in El Dorado County.
Starting tonight, work will begin to grind down the existing pavement of about a 5-mile segment of Highway 49 from Placerville to El Dorado to prepare the highway for asphalt repaving (see map). Motorists should expect one-way traffic control from 8 p.m. to 6 a.m. Monday through Friday the next several weeks with delays of up to to 20 minutes.
This $1.6 million project was awarded to contractor George Reed, Inc., based in Modesto.
Weather or unexpected events may delay or prolong the work. Caltrans advises motorists to "Be Work Zone Alert." The department will issue construction updates on Twitter @CaltransDist3 and on Facebook at CaltransDistrict3. For real-time traffic, click on Caltrans' QuickMap or download the QuickMap app from the App Store or Google Play.
###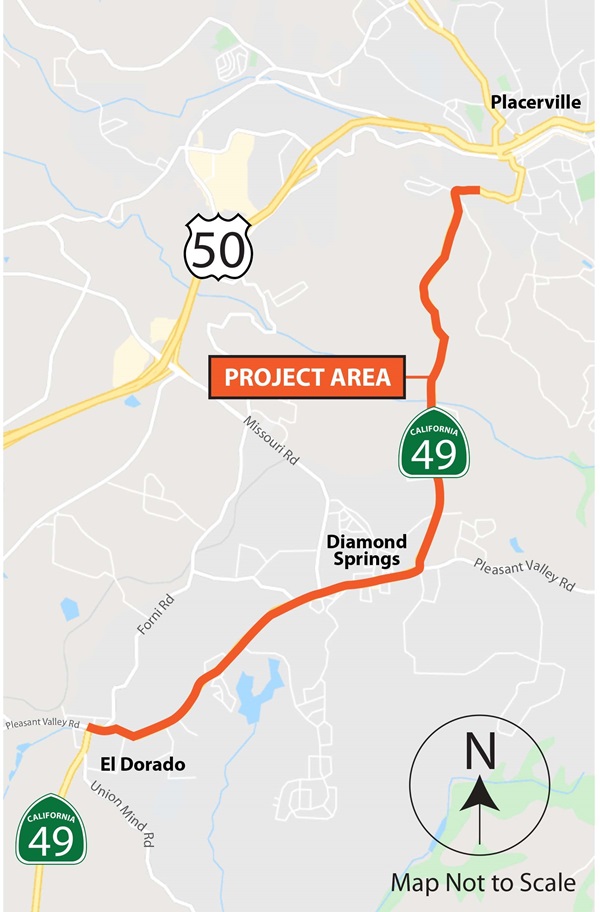 Map of State Route 49 Pavement Project