South Avenue Safety Project
South Avenue Safety Project
Project Description
This safety project in Tehama County will be taking place at the intersection of State Route 99 and County Road A9 (South Avenue). The project proposes to reduce the frequency and severity of accidents by replacing the existing stop sign controlled intersection with a roundabout intersection after a traffic collision analysis was conducted by the District 2 Traffic Safety Branch identified a pattern of collisions at this intersection.
According to the analysis, between January 1, 2013 and December 31, 2017, there were a total of 17 collisions: 11 involved injuries and 6 were property damage only. The total collision rate is 4.7 times the statewide average for similar facility types, and the fatal plus injury rate is 7.0 times the statewide average.
Work will include roadway excavation to accommodate the new alignment and structural section, installation of concrete curbs and gutters, installation of a center island, installation of new signs, and drainage improvements. Construction is anticipated to take place between April and November of 2024.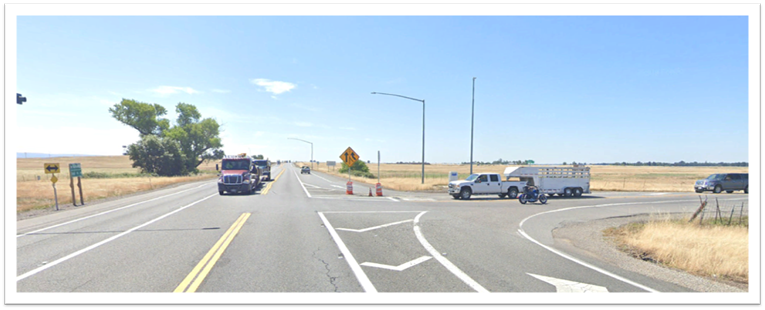 Roundabout Pros and Cons
Roundabouts have many safety benefits including:
fewer conflict points
reduced speeds
fewer collisions (68% reduction)
less severe collisions (88% reduction in injury-related collisions and 100% reduction in fatal collision)
shorter queue length and vehicle delays
less air pollution
provides a U-turn movement in all directions
One con regarding roundabouts is that they do take time for users to get accustomed to
Environmental Impacts
The addition of a roundabout in this area will have the following environmental impacts --
Wetlands: Approximately 0.32 acres will be permanently impacted and 0.12 acres will be temporarily impacted. Wetlands are assumed to be occupied by federally listed species (vernal pool tadpole shrimp, vernal pool fairy shrimp, and Conservancy fairy shrimp).
Seasonal Stream: Approximately 0.013 acres will be permanently impacted and 0.006 acres will be temporarily impacted.
Riparian: Approximately 0.004 acres will be permanently impacted.
Annual Grassland: Approximately 2.75 acres will be permanently impacted and 2 acres will be temporarily impacted.
Aesthetics: Visual impacts associated with a 45-foot-tall tower, flashing beacons, and safety lighting.
Williamson Act Lands: Conversion of approximately 2.75 acres.
To view the full Environmental Document, click here.
Non-Discrimination Policy Statement
The California Department of Transportation, under Title VI of the Civil Right Act of 1964, ensures "No person in the United State shall, on the ground of race, color, or national origin, be excluded from participation in, be denied the benefits of, or be subjected to discrimination under any program or activity receiving federal financial assistant."
Caltrans will make every effort to ensure nondiscrimination in all of its services, programs and activities, whether they are federally funded or not, and that services and benefits are fairly distributed to all people, regardless of race, color, or national origin. In addition, Caltrans will facilitate meaningful participation in the transportation planning process in a nondiscriminatory manner.
Related federal statuses, remedies, and state law further those protections to include sex, disability, religion, sexual orientation, and age.
For information or guidance on how to file a complaint, or obtain more information regarding Title VI, please contact the Title VI Branch Manager at (916) 324-8379 or visit the Title VI Branch Webpage.
South Avenue Safety Project Virtual Public Meeting