Fix 5 Cascade Gateway on Interstate 5
Fix 5 Cascade Gateway/Cascade SHOPP Project on Interstate 5

The Project:
The Fix 5 Cascade Gateway/Cascade SHOPP project is part of a series of projects that are restoring Interstate 5 through parts of Redding and Shasta County. These projects will have several improvements, the main one being the addition of a third lane in the median between Redding and the City of Shasta Lake. This will allow more room to merge traffic at the on and off ramps while helping to reduce merging conflicts at multiple state routes that intersect in this area. Auxiliary lanes between the SR-299 and SR-44 interchange ramps will provide a much smoother flow of traffic in the area over Hilltop Drive, a busy retail area in Redding. This project also includes improvements to drainage and stormwater treatment facilities. Guardrails, high-tension cable barriers and the median barrier will all be brought to current standards.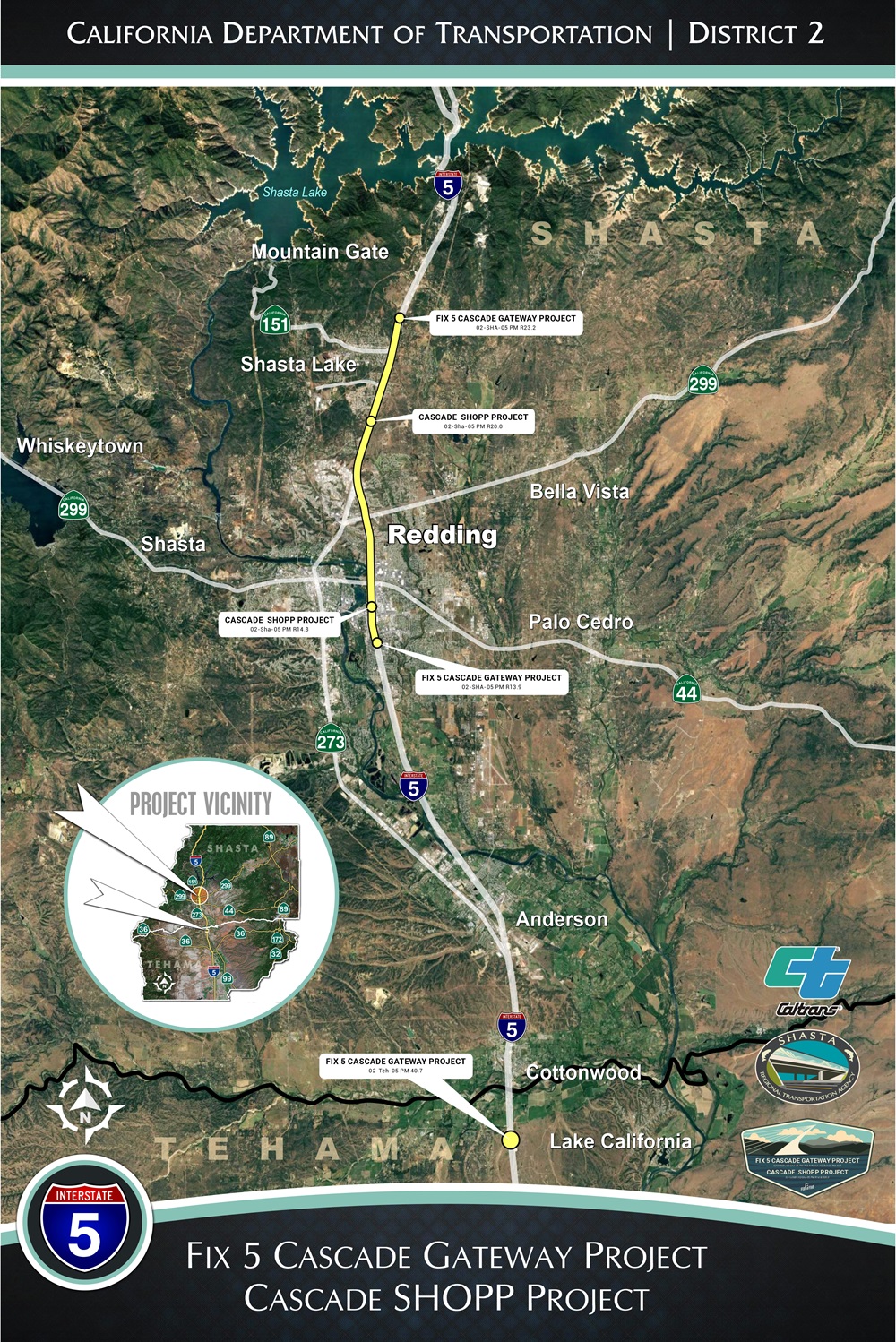 Project Need:
The Fix 5 Cascade Gateway Project is needed to improve the traffic operations, including goods movement, through the Redding area. The mainline flow of traffic is currently degraded by merging and weaving traffic at consecutive interchanges. The presence of trucks in the right lane and lack of continuous auxiliary lanes between interchanges can make it difficult to navigate. Long backups, delays, and major detours through and around the project area are experienced during wildfires and winter storms, demonstrating the current lack of system resiliency. Interstate 5 through Redding, which includes the last remaining four-lane section of freeway on I-5 from the Tehama County line to Shasta Lake City, experiences restricted traffic operations and inter-regional goods movement. These factors can reduce safety of the facility as well.
The Cascade SHOPP Project is needed to improve the safety and traffic operations within the project limits. The existing signing, lighting, median barrier, and bridge railing do not meet current standards. Existing structures are less seismically resilient due to a lack of in-fill walls. Existing ITS/TMS elements are in poor condition and are needed for daily freeway operations and during emergency events. Two structure locations within the project limits do not meet minimum vertical clearance standards. Some drainage systems within the project limits that have been assessed as having fair or poor health. All these factors reduce the safety and operational effectiveness of the facility.
Community Partnership:
Caltrans District 2 and the Shasta Regional Transportation Agency are partnering to leverage multiple funding sources. Other agencies and organizations in support of the project include Shasta County, City of Redding, City of Anderson, City of Shasta Lake, the California Highway Patrol, and the Truckers' Association.
Project Benefits:
This project aims to improve operations on Interstate 5 by reducing merging conflicts and congestion, maintaining reasonable and efficient traffic operations, and improving safety for users and workers.
Project Includes:
This project will widen Interstate 5 from 4 to 6 lanes. Work will include widening in the median with 12-foot lanes, adding 10-foot inside shoulders, constructing stormwater retention storage as needed, widening six bridges as needed and improving vertical clearance at five structures.
Current Project Schedule:
There are 240 working days anticipated for this project. Approximately 200 working days are expected to require traffic control. Construction is scheduled to begin in March of 2025.
Funding:
STIP (Local Funds) - $78,930,000
SHOPP (Caltrans Funds) - $23,300,000
Total - $102,230,000
Receive Updates:
Follow Caltrans District 2 on Facebook and Twitter.
Contacts:
Project Manager: Kelly Timmons
Public Information Officer: Mario Montalvo