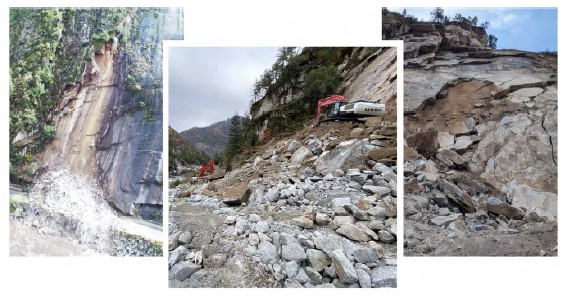 State Route 70 in the Feather River Canyon was hit hard by the Dixie Fire last summer, with large areas of damage in the area as the fire started and grew to the northeast. Following a full closure when the fire started in mid-July, the route was reopened in early August and emergency work on the corridor continued. Crews were in a race against time to make emergency repairs from the fire prior to inclement weather settling in for the winter.
Following a period with little to no rain in months, much of Northern California was hit with a destructive atmospheric river event between October 21 - 25. Massive amounts of precipitation came down during this period, causing flooding and debris throughout the corridor. The worst area was near the Butte/Plumas County line in an area known as the "Onion Peel," just east of Pulga, where massive debris came barreling down off the sheer rock cliff approximately 400' above the roadway. Much of the debris was the size of sedans, with one piece noted as approximately the size of a large moving van.
State Route 70 was closed to through traffic due to the large slide and other accompanying activity on October 24. Construction and prime contractor J.F. Shea, who was already in the area conducting post-fire emergency work, took over for Maintenance soon after and began assessing the area.
After activity at the slide slowed down, Caltrans and the contractor began scaling operations, with personnel brought in by helicopter from the top of the slope to loosen and remove material.
In early November, debris removal was underway in attempts to reopen the roadway. On the weekend of November 13-14, the slide became active again, and crews were forced to stop operations until the area was considered stable again.
Following more scaling, blasting operations were conducted on November 23 and November 29 to remove unstable areas of the slope and breakdown large debris for removal.