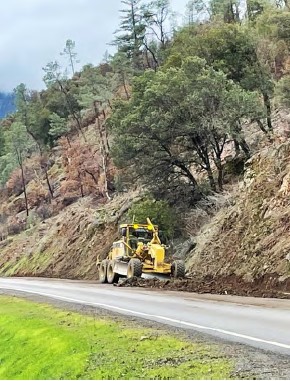 Work continues on the Monument Slide on State Route 299 in Trinity County. Crews remain busy removing slide material and trees along the nearly 15-mile stretch of road from Cedar Flat to Big Bar.
The project has been ongoing since the Monument Fire swept through the area on the summer of 2021, which presented several challenges.
"After getting the roadway opened, we had to put the brakes on the contractor, and just have him maintain traffic control for over a month, while the fires were continuing to burn, so that the other emergency responders could get through to do their jobs, and if needed, people could evacuate," Project Manager Bill Barnes said.
Once the fires were contained, crews were able to get to work clearing out and stabilizing the slide. They had to coordinate with local agencies and residents to find a way to let traffic through while still closing the road long enough to get work done in a safe manner.
The recent rain and snow presented another hurdle, Barnes said. But crews were able to quickly get back to work with little impact to the schedule.
"With the exception of the storms around the holidays, the weather has been fairly cooperative and allowed us to continue working to try to get things wrapped up as soon as possible," he said.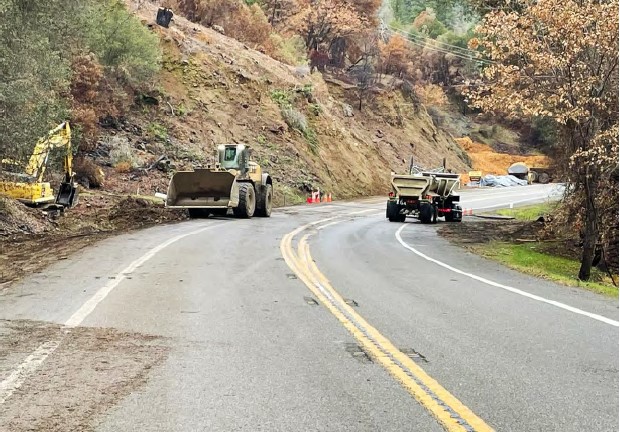 Currently, crews are working to remove the remaining slide material and fallen trees while work has also begun to remove debris that has accumulated in catchments alongside the road. This will be happening in multiple locations and traffic will be reduced to one lane with minimum delays to traffic so crews can work to safely get the job done.
Sign crews are also working to replace signage damaged during the Monument Fire, and repairs are being made to culverts and drainage systems.
Written by Mario Montalvo, District 2 Public Information Officer