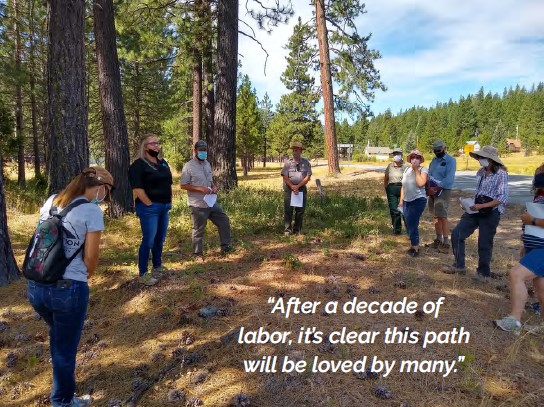 Ten years, $5.6 million dollars, and a lot of "blood, sweat and tears" can bring you the most amazing things. Two long-time Caltrans District 2 employees have experienced this first-hand with their labor of love project that is finally coming to fruition.
For Tamy Quigley, Chief of the Office of Complete Streets and Livable Communities and Mike Mason, Mineral Maintenance Supervisor, creating a separate space for people to walk and bike not only for the community of Mineral but for the hundreds of people who attend local camps and choose this amazing area for recreation purposes at nearby cabins and Lassen National Park. This dream born of a local need and outreach within the community will create space for those who desire to walk, bike, roll, or snowshoe by creating a fully separated and designated path away from the highway for these non-motorized travelers and improve the highway-to-highway crossing with traffic calming and safety enhancements.
"Having a project born from a Maintenance Supervisor, who ultimately said to me 'Tamy, it is not if but when someone gets hurt out here because there is no safe place for people to walk or bike is just not something I can sit back and not pursue' just really meant something to me that sparked a deep desire to find a way to fund this project and the two of us just never gave up," Tamy Quigley said.
Creating a safe route has been a long-standing priority for Tehama County, its Commission, and Caltrans with years of residents and visitors who have expressed feeling unsafe walking, biking, skiing or snowshoeing within the project area. There is currently no "built" environment for people to get from point A to point B without taking a short vehicle trip or an even longer trip to a nearby State or National Park.
This project will complement outdoor experiences the region currently offers. Several campgrounds host hundreds of people year-round that will connect directly to this path. Campers typically enjoy the great outdoors and this route will allow that separate and safe space to walk to and from where they are camping into town and points beyond for daily exercise in the great outdoors.
Winter use was not initially thought of during outreach and engagement for this project. However, when realized that it could be a usable space for skiing and snowshoeing, the excitement and need for the project grew. The benefits of a year-round non-motorized path gave rise to new excitement.
The National Park Superintendent stated, "This project will allow me to never drive to work again. I can walk or ride through the non-snowy times then either cross-country ski or snowshoe when snow is on the ground."
This complete streets project incorporates several elements to achieve its objective:
Installation of 1.4 miles of a separated multi use paved path (Path): The area is popular for recreation and the Path will address a real unmet safety need. Currently the only options are two-foot-wide shoulders along a high speed / high truck and traffic volume highway (SR 36) or a grassy, overgrown, unstable earth surface that is a challenge for most to walk along, let alone bike, ski or snow shoe. This Path begins on the west end of the Town of Mineral, offering an anchor connection for those at the campgrounds or the Mount Lassen Assembly of God Conference Ground and Camp (Camp).
Rectangular Rapid Flashing Beacon (RRFB) System with 24-hour advance warning flashers atboth project ends: This crossing currently has some striping halfway across this busy high speed highway for all those in the area who live, camp, work or recreate on the south side of the area and desire to cross where they can shop, eat, lodge or continue east to their homes, the post office or additional camping locations.
Enhanced Crosswalk: A Continental Crosswalk will be built with a highly visible marked space for non-motorized users to cross the highway. One of the most frequently identified safety concerns is unsafe crossings. Providing the RRFB System and this Enhanced Crosswalk will address this issue.
Traffic Calming: Resurfacing and restriping of the free right turn at the intersection of SR 36 and SR 172, which due to the wide-open turn radius, allows drivers take the turn at a high rate of speed. Restriping will shorten this turn radius, forcing vehicles to slow down while making the turn so they are better able to keep control of their vehicle for their safety and others.
ADA Compliance Ramp: Installation of Americans with Disability (ADA) transition where there currently are bushes and a wooden fence that blocks access. The transition will further connect people to the Path and Crosswalk at the town center and provide safe continued designated space for those in need.
Improved Shoulders: 8' Shoulders on the north sides of SR 36 will be constructed leaving the town center and continuing east to the post office, additional camping locations and points beyond. This area currently has narrow shoulders and does not offer a space for the non-motorized user.
The project benefits are local, regional and extend to a much larger reach of people given this project truly is at the gateway to the Lassen Volcanic National Park and the National Park Service. This area is rich with recreational attractions with several camping locations, seasonal cabins, and a summer camp that attracts families and youth from around the state and beyond. Mineral also offers a small-town eatery and lodge that attracts those passing through.
"This will be a great project for the community of Mineral. Over the last several years, there has been multiple phone calls to Caltrans Mineral yard requesting improvement to this dirt path from the community of Mineral to USFS Battle Creek campground on Highway 36," said Mike Mason. "Approximately 3,500 people each year use the USFS campground and 700 people use the church campground in the summer. Visitors will enjoy the setting of the path and the beauty of the outdoors along Highway 36."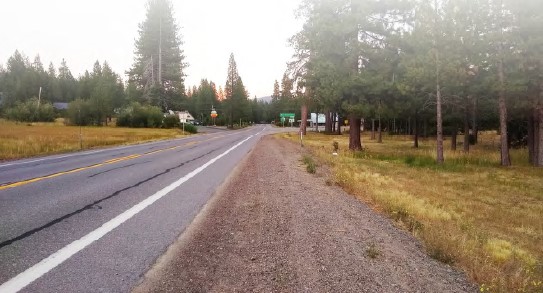 The benefits of this project will be seen year-round. During spring, summer, and fall months this path, safe crossing, and improved shoulders will be used for daily trips and in place of vehicle trips. Camps can use these safe routes for activities, families may use them to take leisurely walks or bike rides and for locals to visit others while in town. During the snow months this path and project features will be used to cross-country ski and snowshoeing.
A unique need that is being addressed by the project is that parents will be able to walk their children to the bus stop. Currently parents drive their kids to the bus stop but would much rather take the morning and afternoon walk using the path and other project features to get them to the bus stop. Mineral Elementary school closed a few years ago and families are now reliant on Red Bluff, the nearest town, for their children's education. Parents expressed enthusiasm for the project because it will allow their kids to get some exercise before and after the long bus ride. This added mobility benefit provides a need that wasn't known initially but adds tremendous value regarding the health aspects of the residents, specifically school aged children.
The path will anchor the small town of Mineral as a passage between two national parks, along a scenic highway, and further connections to many more destination points. As a small town, Mineral residents know one another and desire to create walking groups so those who don't get out much would have friends to walk with. During outreach and engagement, it came to light that there are several retired residents on a fixed income who have limited recreation options. Many community members stated they are unable to go out as they would like to because it isn't safe. Residents were encouraged by the project and stated they would feel more protected on a separated path and are excited to go out more when the paths built. The direct benefit this has on people's health is not only physical but mental and emotional as well.
"The alternative transportation of the walking/bike trails plan improves the quality of life of citizens by providing modes of transportation that encourage exercise and reduce pollution, an obvious health benefit that some insurance companies are now recognizing," said Mineral residents Pamela and Gary Bengrin in an email. "It will give people of all ages a chance to be on a stable ground surface and enjoy our natural rural area. With the cost of fuel and maintaining a vehicle the path would make a nice work commute for some of our residents."
After a decade of labor, it's clear this path will be loved by many.
"Remember as a youngster when your family would go on vacation? Even 40 years later, there was always something that you would remember about going on vacation with family that would bring a smile to your face," Mike Mason said. "I believe this walking/bike trail project would be that memory."
Written by Denise Yergenson, District 2 Public Information Officer Chief