I-5 Managed Lanes Project (SR-55 to OC/LA County Line)
I-5 Managed Lanes Project (SR-55 to OC/LA County Line)
CLICK HERE to visit our external project website to view additional scoping and project materials as well as to submit a public comment via online comment form.
The I-5 Managed Lanes Project includes a 15-mile section between Red Hill Avenue, south of SR-55, and the Orange/Los Angeles County Line that will address operational deficiencies related to HOV degradation through studies of alternatives that include priced managed lanes (also known as Express Lanes) strategies. The purpose of this project is to improve the overall movement of people and goods along this section of I-5 through the cities of Tustin, Santa Ana, Orange, Anaheim, Fullerton, Buena Park and La Mirada. Currently, the project corridor has three major freeway-to-freeway interchanges at SR-55, SR-22/SR-57 and SR-91 and at least one HOV lane in each direction.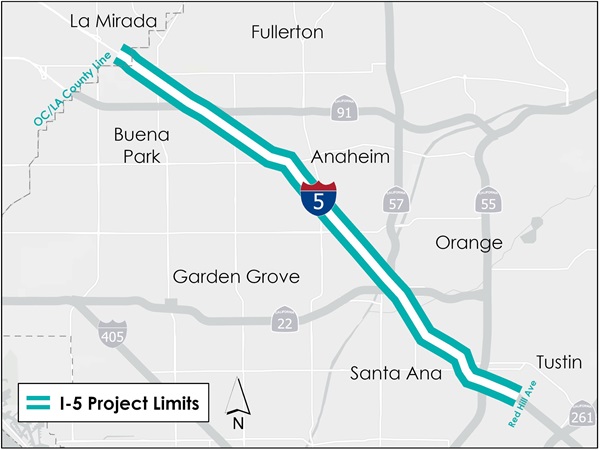 Caltrans is initiating the Project Approval and Environmental Document (PA&ED) Phase through the scoping process. A key component of scoping is public engagement. The scoping period is between May 9, 2022 -- June 8, 2022
Caltrans is the Lead Agency under the National Environmental Policy Act (NEPA) and the California Environmental Quality Act (CEQA). Caltrans is preparing an Environmental Impact Report (EIR) pursuant to CEQA and an Environmental Assessment (EA) pursuant to NEPA.
Proposed Alternatives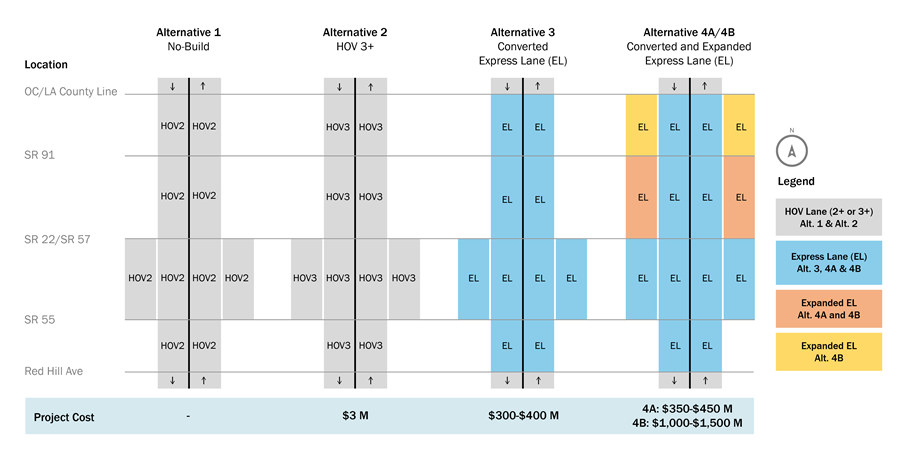 The proposed alternatives under consideration include one No Build Alternative and three Build Alternatives. For details regarding the proposed alternatives, please see the Notice of Preparation and/or the PowerPoint presentation below under 'What is Available/Resources'.
Public Scoping Meetings
Caltrans will host two public scoping meetings – one in-person meeting and one virtual meeting. The purpose of the scoping meetings is to provide information to agencies and the public regarding the proposed project and to obtain feedback on the scope and content that should be addressed in the environmental document.
In-Person Scoping Meeting
5:30 to 7:30 p.m.
Tuesday, May 24, 2022
Downtown Anaheim Community Center
250 E. Center Street, Anaheim, CA 92805
Virtual Scoping Meeting
5:30 to 7:30 p.m. via Zoom
Thursday, May 26, 2022
Zoom Registration Link: Register Here
**We highly recommend you watch our 11 min overview PowerPoint video on our external project website prior to joining the virtual meeting**
Please submit your comments no later than 5 p.m. on Tuesday, June 8, 2022.
All written comments submitted during the scoping period will be recorded.
Comments can be submitted during the public scoping period (May 9, 2022 – June 8, 2022) in any of the following formats:
Online comment form on the external project page: CLICK HERE
Project email to I-5ManagedLanesProject@dot.ca.gov with the subject line "I-5 Managed Lanes Project"
Regular mail to Jayna Harris, Associate/Senior Environmental Planner, 20 Executive Park, Suite 200, Irvine, CA 92614
Speak to a Court reporter during scoping meetings.
Next Steps/Milestones

Summer 2023 – Draft Project Report and Environmental Document
Winter 2023 – Final Project Report and Environmental Document
Winter 2023 – Begin Design (PS&E*)
2026 - Begin Construction
* Plans, Specifications, and Estimates
Project Cost
Proposed project costs range from $3 million to $1.5 billion for the proposed build alternatives
What is Available/Resources
Get Involved and Stay Connected
Sign up through our external project website to receive project information and alerts: CLICK HERE
Follow Caltrans District 12 on Twitter and/or Facebook.
Use Quickmap for real time traffic updates. Quickmap can be accessed here or downloaded from the App Store or Google Play Store
---