Wrong-Way Driver Education and Prevention
Wrong-Way Driver Education and Prevention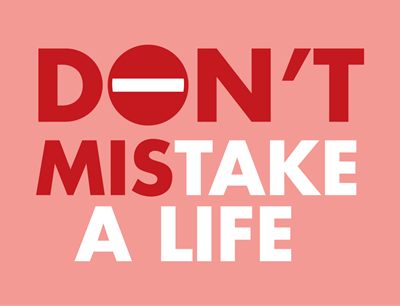 Wrong-way collisions are rare—accounting for less than one-tenth of one percent of total highway collisions—but often shocking due to the circumstances and the high speed of the vehicles involved. The National Transportation Safety Board (NTSB) found that almost half of wrong-way accidents are the fault of a drunk driver.
In recent months we have seen an increase in the amount of wrong-way driver collisions on our transportation network, and we don't take that lightly.
Prevention is Key
Since the 1960s, Caltrans has been installing "WRONG WAY" and "DO NOT ENTER" signs at exit ramps and painting large, one-way arrows on the exit-ramp pavement as well as reflectors that appear red to wrong-way drivers on freeway lanes and exit ramps. Since 1985, Caltrans has had a robust monitoring program to investigate wrong-way driving incidents. Caltrans uses collision data to identify problem locations and sends teams of engineers out to review the location and recommend solutions. These teams of engineers determine if simple fixes are in order, such as more signs, markings, and lighting. Caltrans, in some cases, may even change the alignment of exit ramps and roadways.
But it is still not enough to prevent multiple wrong-way accidents every year.
We need to do more.
This year, Caltrans District 11 worked through a Director's Order to upgrade and expand wrong-way driver infrastructure at 74 ramps on 13 routes (I-5, I-8, I-15/SR-15, SR-52, SR-54, SR-56, SR-67, SR-78, SR-94, SR-125, SR-163, SR-805, and SR-905), that have experienced wrong-way driver collisions. The driving public may not see the innovative technology Caltrans crews are installing since much of the infrastructure, like the reverse red reflectors on the pavement and the flashing DO NOT ENTER/WRONG WAY signs, are only meant to be seen when driving the wrong way.
We know this technology works. As a result of our pilot efforts, we have observed a reduction between 44 to 64 percent in reported wrong-way events.
We continue to monitor these events and make improvements as we constantly look to improve the system.
But we cannot just engineer our way out of the impaired and the wrong way driving epidemic.
With partners like the California Highway Patrol (CHP), Mother Against Drunk Drivers (MADD), and the Office of Traffic Safety (OTS), Caltrans has developed a public campaign effort.
The creative campaign features the tagline "DON'T MISTAKE A LIFE" to remind people not to make a mistake and end up taking someone's life by entering the freeway in the wrong direction. The campaign also features headlines such as "RED REFLECTORS MEAN WRONG WAY" and "IMPAIRED DRIVERS MAKE WRONG WAY DRIVERS" to bring context to the message. The campaign will include billboards, social media, advertising on buses, print advertising, and transit shelters.
Creative Mockups
While our crews are hard at work fortifying San Diego County off-ramps we will be working with elected officials, law enforcement, community organizations, and other state offices to educate the public on the causes and methods available to curb wrong-way driving.
Our campaign aims to address impaired driving as the common cause of wrong-way collisions and we hope to significantly reduce wrong-way driver and other impaired driver incidents by enhancing awareness among the driving public and those able to influence them.
It is imperative that we maintain a safe transportation network by promoting a conversation about avoiding distracted and inebriated driving.
In the end, promoting public safety is always our number one concern.
But it takes a community effort to create a safe transportation network.
We want you, and our highway workers to get home safe.
Wrong-Way Driving Incidents in the News
Offramps closed this week
Intermittent closures and consecutive ramps will not be closed at the same time within the closure window.
Closure windows
12/5 = Monday 9 p.m. to Tuesday 5 a.m.
12/6 = Tuesday 9 p.m. to Wednesday 5 a.m.
12/7 = Wednesday 9 p.m. to Thursday 5 a.m.
12/8 = Thursday 9 p.m. to Friday 5 a.m.
12/10 = Saturday 3 a.m. to 11 a.m.
12/11 = Sunday 3 a.m. to 11 a.m.
Did you know? Video Series #3