SR-111 Niland Geyser Mitigation Project
SR-111 Niland Geyser Mitigation Project
Caltrans is building a temporary road to provide access to State Route 111 (SR-111) at Davis and Gillespie roads about five miles northwest of Niland in Imperial County.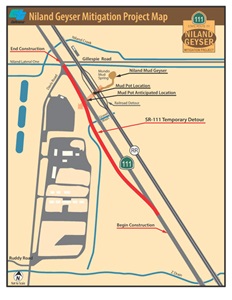 A natural-occurring geyser, in existence since 1953, is moving toward SR-111 and is likely to reach the highway. As the geyser moves west and beyond the temporary road, Caltrans will then rebuild SR-111.
Work began the week of August 23, 2019, on the following items:
Construct sheet pile walls to convey water to a gravel wash – completed.
Construct a sub-surface drain to convey subsurface water beneath the roadway to the west side of the highway to a gravel wash – completed.
Construct a detour road as a contingency to re-route traffic from SR-111 to the west of the current alignment – completed.
On September 27, 2019, Caltrans fully closed SR-111 at Davis and Gillespie roads for two weeks to install drainage beneath the roadway. The closure included public outreach about the out-of-way traffic detour via newspaper ads and radio spots in Spanish and English as well as News Releases to the media and E-blasts to stakeholders and community members. Crews reopened SR-111 October 10 to one-way traffic control. Both directions of travel were opened October 11. The work is expected to be completed mid-November.
Caltrans will tie-in the ends of the newly-built roadway to the existing SR-111 when the geyser water reaches the sheet pile walls located east of the highway. The temporary roadway will serve as a detour around the geyser.
The speed limit in the construction zone has been reduced to 55 mph. Motorists are reminded to drive cautiously and to watch for highway workers and construction equipment when traveling in the area.
The geyser/mud pot is releasing water, carbon dioxide and hydrogen sulfide gases in low concentrations, but does not pose a health hazard from a distance. The geyser has moved slowly in the past 11 years; however, the rate of movement has increased and the geyser has already encroached on the railroad right of way impacting Union Pacific Railroad tracks. For safety reasons, there is no access to the mud pot and public site visits are prohibited.
For more information or to receive project construction alerts, contact the Caltrans Public Information Office at (619) 688-6670 or by email to CT.Public.Information.D11@dot.ca.gov.
News releases
October 10, 2019 – SR-111 North of Niland Reopens Friday Night
September 20, 2019 – Full Closure on SR-111 Begins Friday, September 27
September 9, 2019 – Niland SR-111 Reduced to One Lane through Wednesday
September 5, 2019 – Caltrans Builds Niland SR-111 Detour to bypass moving Mud Pot
Drone Footage
Gallery / Galería