Carrol Canyon Support Wall and Road Repair Project
Carrol Canyon Support Wall and Road Repair Project
Support Wall and Road Repair Project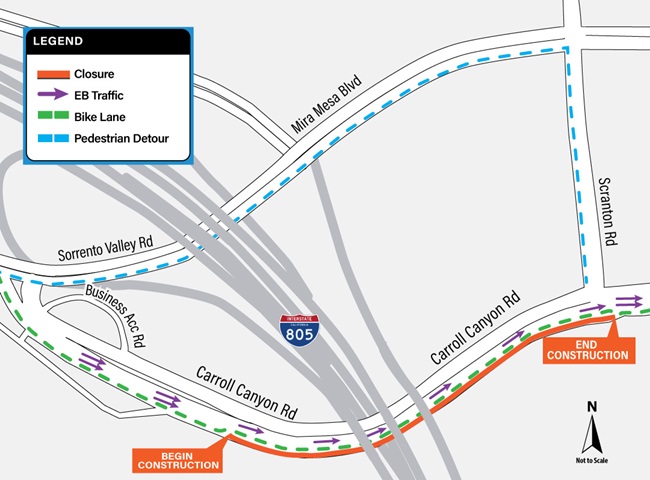 This Caltrans project will repair and reinforce Carrol Canyon Rd. and the support wall under Interstate 805. The work will take place between 7 a.m. and 3 p.m. for up to one year, beginning in late March 2023.
The pedestrian sidewalk on Carroll Canyon Rd. will be closed from Sorrento Valley Rd to just east of Scranton Rd.
Pedestrian access will be detoured to Sorrento Valley Rd. and Mira Mesa Blvd.
Eastbound vehicle and bicycle traffic will be reduced to one lane plus a bike lane and shifted to the center median.
HOV lane access to and from I-805 will be maintained.
The construction schedule is subject to change due to weather, traffic incidents, or other construction considerations. Nearby residents and businesses can expect construction noise and lights, including vehicle backup alarms. Crews will work to minimize noise impacts to all nearby communities.
Please follow Caltrans social media for additional closure information @SDCaltrans on Twitter and like Caltrans District 11 on Facebook at www.facebook.com/SDCaltrans for
If you have additional questions, please contact the Caltrans Public Information Office at (619) 688-6670 or email: ct.public.information.d11@dot.ca.gov