Tony Dang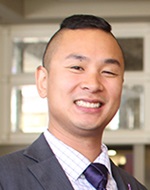 Deputy Director
Sustainability
Tony was appointed as Caltrans' Deputy Director for Sustainability, effective January 22, 2022. In this role, Tony oversees the development, implementation, and integration of sustainability principles and practices into all Caltrans activities.
Prior to this position, Tony served as Sustainability Program Manager in the Director's Office where he provided strategic direction to the Department's work to advance complete streets and active transportation and was a lead co-author of the California State Transportation Agency (CalSTA) Climate Action Plan for Transportation Infrastructure.
Prior to joining Caltrans, Tony worked for over a decade in the non-profit sector working at the intersection of transportation, sustainability, and equity to create more vibrant, livable, and just communities—most recently serving as the Executive Director of California Walks where he oversaw the organization's policy advocacy, community engagement programs, and technical assistance services.
Tony is a member of the American Institute of Certified Planners and holds a BA from Stanford University in Comparative Studies in Race & Ethnicity.